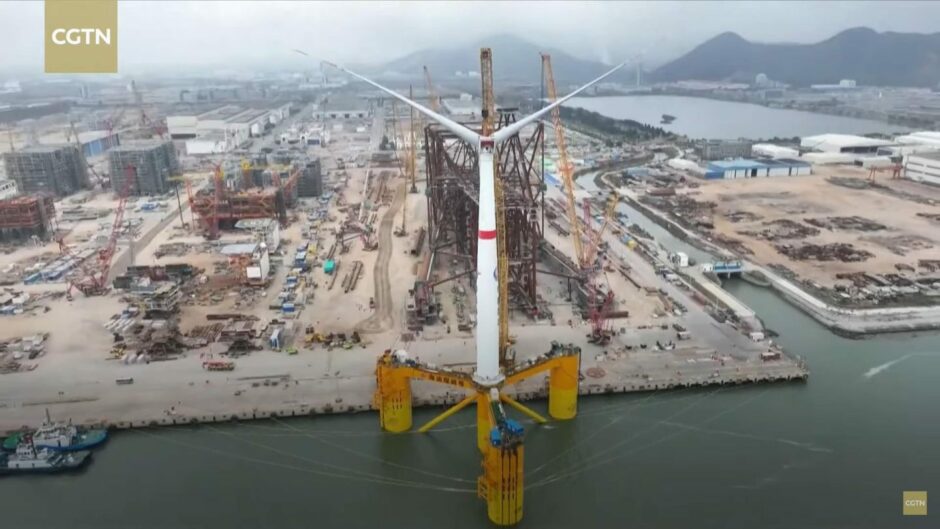 Chinese oil group Cnooc has successfully built its first floating wind turbine, which will be used to power oil and gas operations.
The 'double 100' generation platform is so called because it will be stationed more than 100 kilometres from land, in a water depth of more than 100 metres.
Funded and constructed by Cnooc, the offshore wind turbine has been named 'Guanlan', which translates to 'waves watching'.
Weighing in at nearly 4,000 tonnes, and 35 metres tall, the unit will be located at an oilfield some 130 kilometres from the city of Wenchang.
A video of the huge floating turbine being constructed has been posted on the YouTube page of the China Global Television Network.
When operational, the unit will provide green power to a nearby offshore oilfield cluster via submarine cables, as Cnooc cracks on with the industry wide imperative to reduce emissions linked to hydrocarbon production.
In a post on LinkedIn, the Chinese state-owned oil giant said: "China National Offshore Oil Corporation (CNOOC) – one of the largest national oil companies in China – has successfully built a "double 100" floating wind power generation platform, which will be operating in a sea area more than 100 kilometres from the coastline and at a depth of more than 100 meters.
"Funded and built by CNOOC, the offshore wind power generation platform is named "CNOOC Guanlan," literally "waves watching," and is 35 meters tall and nearly 4,000 tonnes in weight. The platform is located at the oil field in the waters 136 kilometres away from Wenchang. When put into operation, the platform can power its nearby offshore oil field cluster via submarine cables."
Reports have emerged in the last year that Cnooc is looking to sell of its operations in the US and UK North Sea, including stakes in some major fields, as concerns about future sanctions intensify.
The group recently reported record annual profits, driven by 2022's surge in energy prices, with the company's net income doubling to 141.7 billion yuan ($20.6 billion) for the year.
Recommended for you

Can oil ever be green? Norway turns to wind-powered drilling