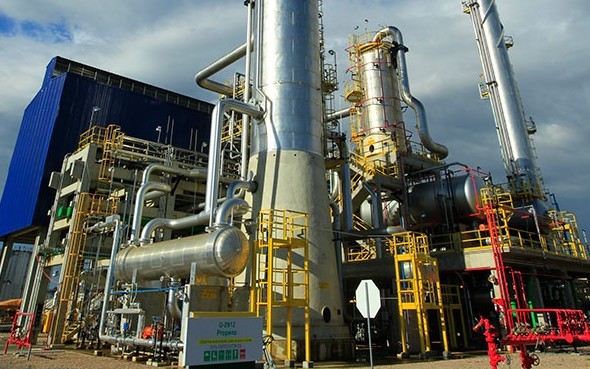 China's Sinopec is offering its subsidiary refineries big incentives to export their diesel fuel, sources said, in a rare move that reflects the top Asian refiner's deepening concerns about a growing domestic glut.
The internal bonus scheme marks the latest step by the state-owned refiner to battle local oversupply of the industrial fuel as slowing economic growth curbs diesel use in mining, construction and transportation.
The company has maintained relatively high production in order to feed growing domestic demand for kerosene and gasoline, thus exacerbating the diesel surplus, oil sources say. Sinopec's crude runs were up 1.4% in the first three quarters of 2015 compared with a year ago, according to corporate filings.
About a half-dozen of Sinopec's refineries are being offered around 240 yuan ($37.60) for each tonne of diesel exported, under a scheme that started in September and has been extended to December, said two people familiar with the bonus plan.
That's an additional 6% on top of domestic pre-tax wholesale prices, worth some $80 million over four months, according to Reuters' calculations based on estimates of Sinopec's exports.
Sinopec declined to comment on the move. Most of its refineries sell their products only into the domestic market.
"Sinopec is anticipating China's robust gasoline demand growth will sustain in 2016. To produce more gasoline means more diesel output from refineries," said Gordon Kwan, head of oil and gas research with Nomura in Hong Kong.
"Diesel demand in China will remain subdued, thus the potential for diesel exports to rise further ahead."
The payments are a tiny portion of the company's $4.25-billion net profit in the first three quarters of the year, and with refining profits up 34.3%, the company has plenty of room for the export incentive, analysts said.
Still the grants are relatively rare and are larger than previous offerings, people with knowledge of the scheme said, reflecting growing concerns about China's diesel inventories as demand dips during the winter when construction work slows.
China's diesel exports jumped by 50% in the first 10 months of this year to about 129,000 barrels per day (bpd), official data showed, roughly 4% of China's total diesel consumption.
Shipments in September and October were particularly robust, with September sales at the highest level since at least 2006, near 276,000 bpd, and easing slightly in October to 221,500 bpd, customs data showed.
The growing overseas sales from Sinopec, representing roughly 60% of China's diesel exports, comes as the government prepares to allow smaller, independent refineries to export refined fuel for the first time.
Authorities have also let state-run oil and chemicals trader Sinochem begin to export fuel.
Recommended for you

We must look before we leap with hydrogen and transport