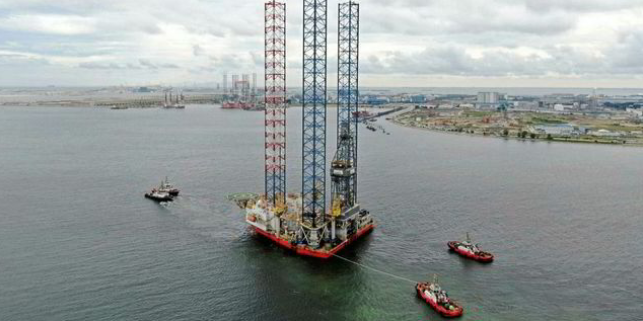 The Chinese coast guard has been harassing a drilling rig contracted to Thailand's PTTEP in Malaysian waters off Sarawak as the company attempts to appraise its biggest ever gas discovery.
The China coast guard ship 5402 harassed Borr Drilling's Gunnlod jack-up drilling unit and its supply ships within Malaysia's 200-nautical mile exclusive economic zone (EEZ) in the South China Sea, off the coast of Sarawak, on November 19, reported the Asia Maritime Transparency Initiative (AMTI). The incident appears to have followed two weeks of rising tensions between the Chinese coast guard and the Royal Malaysian Navy, added the AMTI.
PTTEP has contracted the drilling rig, which arrived in Block SK410B in early November, until Q1 2021. Although it has an option to extend the contract until Q3 2021.
The Thai national oil company is appraising its giant Lang Lebah field, discovered in 2019, which is estimated to hold at least 57 billion cubic metres of natural gas. PTTEP and its joint venture partners, Kuwait Foreign Petroleum Exploration Co. and Petronas, are now drilling an appraisal well to confirm suspicions that the find is even bigger than initially estimated.
This has attracted the attention of Beijing as the field sits in an area also claimed by China through its sweeping claim to most of the South China Sea within its U-shaped 'nine-dash line', which is not recognised by its neighbours or internationally by The United Nations Convention on the Law of the Sea.
On 19 November, the Chinese ship "approached to within two nautical miles of the rig, presumably warning it to cease operations as the China coast guard has in other recent cases involving Malaysia and Vietnamese offshore drilling," said the AMTI.
Significantly, at just over 40 nautical miles from the Malaysian state of Sarawak, this is the closest to shore AMTI has ever documented such Chinese harassment.
In response, the Royal Malaysian Navy deployed up to two ships to shadow the Chinese ship.
"An analysis of AIS data from Marine Traffic and satellite imagery from Panet Labs reveals this high-stakes game of chicken that would otherwise have remained under the radar," said the AMTI.
Crucially, Malaysia and China prefer to keep these kind of tense incidents, that have been going on for years, under wraps and diffuse them through diplomatic channels, Ian Storey, a senior fellow and Asian security expert, at the ISEAS Yusof Ishak Institute in Singapore, told Energy Voice.
But "with the advent of relatively inexpensive satellite imagery, it's become almost impossible for the two countries to continue doing that," added Storey.
As of 25 November, the drilling rig remains on site and the Chinese coast guard has not returned to the area. However, "recent history suggests China could escalate the standoff with further deployments. But it might also deescalate, recognising that harassment of drilling operations so close to Malaysian shores is a significant provocation," said AMTI.
"The China coast guard tries to disrupt the drilling operations of the Southeast Asian claimants because it wants to coerce them into signing joint development agreements with China in areas that fall within the nine-dash line (claim)," said Storey.
"Exploration activities require vast sums of money, and to make a profit energy companies require stability in the areas they have invested in. When China disrupts their operations, it makes them think twice about working in the disputed waters of the South China Sea again without China's consent," added Storey.
Indeed, China's increasing harassment of Vietnamese upstream developments in disputed areas of the South China Sea has seen numerous projects abandoned in recent years.
Meanwhile, the latest spat off Malaysia follows similar action witnessed earlier this year when the Chinese harassed the West Capella drilling rig under contract to Petronas. That tense standoff, which lasted many months, and that involved ships from Malaysia, China and Vietnam, as well as the U.S. navy at one point, fortunately ended without serious incident. However, it affirmed Beijing's message that the unilateral extraction of new sources of hydrocarbons by Southeast Asian littoral states will not be tolerated in disputed waters.
Beijing had made diplomatic back-channelling efforts to try to persuade the Malaysians to refrain from carrying out such upstream activity in the run-up to the West Capella incident, Collin Koh Swee Lean, research fellow at Singapore's S. Rajaratnam School of International Studies, told Energy Voice.
Regardless, the Malaysians continued drilling with the West Capella rig and the Chinese simply continued with the coercion in that case, added Koh.
Still, the shaky government of Malaysian Prime Minister Muhyiddin Yassin, which recently faced a no-confidence vote, will want to keep this latest politically sensitive standoff with China out of the public eye.
Petronas will also be hoping the spats with China offshore eastern Malaysia do not escalate further, as the Malaysian NOC desperately needs new gas reserves to be developed in a timely manner to help maintain its exports of LNG in the near-to-medium term, as legacy fields mature.