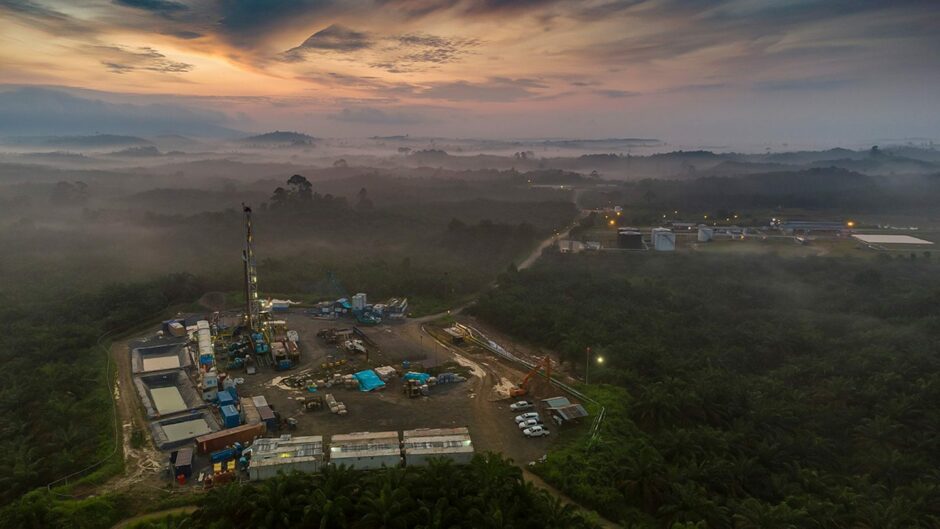 Indonesia has big goals to grow its oil and gas production by 2030. While majors are selling down mature assets, this provides an opening for minnows and independents.
Criterium Energy is one such company with its eyes on the Indonesian prize – and beyond, into the wider region.
The Calgary-based company brings together former Talisman Energy executives who have worked in the region previously. "It's a five-year story in the making," Criterium COO Matt Klukas explains.
Klukas and Criterium president and CEO Robin Auld hatched the plan to work in the area, where the two have a network. "It's under served by independents, in a way it feels like there's no competition – and there's a lot of running room," Klukas said.
The pandemic provided a "couple of false starts" involving private equity but in 2022 public markets began to reopen. In September of that year the team overhauled a listed company, Softrock Minerals, recapitalising it and giving it a new direction.
Two step
As a first step, Criterium acquired a non-operated stake in Indonesia's Bulu production-sharing contract (PSC). The move "planted our flag", Klukas said, and it "signalled that we're looking at Indonesia. It's really an option for the future, with minimal risk."
In mid-June, Criterium showed its larger hopes and struck a deal to acquire Mont d'Or Petroleum, with closing expected in July.
Mont d'Or has two PSCs. Tungkal, onshore in South Sumatra, produces about 1,000 barrels per day of oil. West Salawati, in Southwest Papua, produces 20 bpd.
The Canadian company had been working on the deal for some time and built up a relationship with the seller, a private equity company in Singapore. The sellers wanted an option to participate on some of the upside, Klukas said, and the deal brings them in as shareholders.
Mont d'Or has struggled under an unsustainable debt load and the acquisition acts to wipe some of this out. The lenders have agreed to write down $5 million of the debt and converted another $5mn into Criterium equity on closing. Another tranche of that debt can convert into equity in 2025.
Alongside the deal, Criterium is raising $16mn of cash, of which half goes to the lenders. All told, the deal reduces debt on Mont d'Or to around $20mn, equal to one times EBITDA in 2023-24.
All debt should be paid down, using cash from operations, by 2026.
Making plans
Of the remaining $8mn from the raising, Criterium aims to "accelerate our drilling campaign and gas monetisation strategy".
Mont d'Or has been starved of funding for the last six or seven years, Klukas explained, with only minimal activity.
Criterium sees "three levers" to bring new life to the assets. The first is a plan to drill three to four wells per year and around double the amount of work overs. Drilling should begin in the fourth quarter of this year with three to four wells on the Mengoepeh field, on the Tungkal PSC. The operator trucks oil from this licence to a terminal, at a cost of $2.50 per barrel.
"That should see steady production growth. From 1,000 bpd in 2023 that should double in 2024 and then triple in 2025."
A second lever is on gas monetisation. There is nearby infrastructure to link gas flows into from Mont d'Or's assets.
"That gas has never been produced but it's ready to go and that can be tied in at relatively low cost." The assets have 20 billion cubic feet of gas, currently categorised as contingent resource.
The third option is to follow up two exploration prospects under an unused pipeline. "Our strategy is production, then development and then exploration," the COO said. "Those prospects are so close to infrastructure there's a higher chance of commercial success."
M&A
Klukas made it clear there was scope for more acquisitions in the area. The majors have sold down mature assets in the region and local NOCs "do not have the bandwidth. They're spread so thin that they can't optimise all their projects."
The Mont d'Or deal gives Criterium "operatorship and a seat at the table", Klukas said. The Canadian company had looked at the Mubadala Petroleum sale last year, which ended up going to Valeura Energy.
In the region, Criterium sees limited competition, such as Valeura and Jadestone Energy. "In Western Canada, there are 10 companies fighting for each opportunity."
Through this changing of the guard, one challenge is around decommissioning.
Klukas sounded wary. "We're rather allergic to decommissioning liabilities. Our objective is to grow despite commodity prices and we test transactions to see what happens if oil falls to $50 per barrel for a sustained period. When you have abandonment liabilities, those run a lot of risk in volatile markets."
The Criterium official said the company would not rule out such a deal, but it would prefer to continue funding ongoing decommissioning liabilities than handle older claims.
Decommissioning plans do have an impact on project planning for Criterium, he said. "When we look at a project like Bulu we would look to limit fixed infrastructure and opt instead for modular facilities. This cuts upfront costs and the impact on the environment – and lowers abandonment charges. We're constantly thinking about that."
Supportive
The COO was keen to stress the appeal of Indonesia – and the wider region. "Compare it with Canada, where the government doesn't want incremental hydrocarbon production. Indonesia is underpinned by its desire to double the production of oil and gas by 2030. It's very welcoming, including to new entrants."
Plans for the Mont d'Or assets tally with this, with the intention of "investing quickly and then reinvesting".
Criterium's plan sees growth and acquisitions playing a part of that. "There are opportunities for new market entries, where we acquire producing assets in their mid-life. We plan to create strong partnerships and build beyond Indonesia."
Recommended for you

Afentra's McDade praises Angola's oil industry embrace