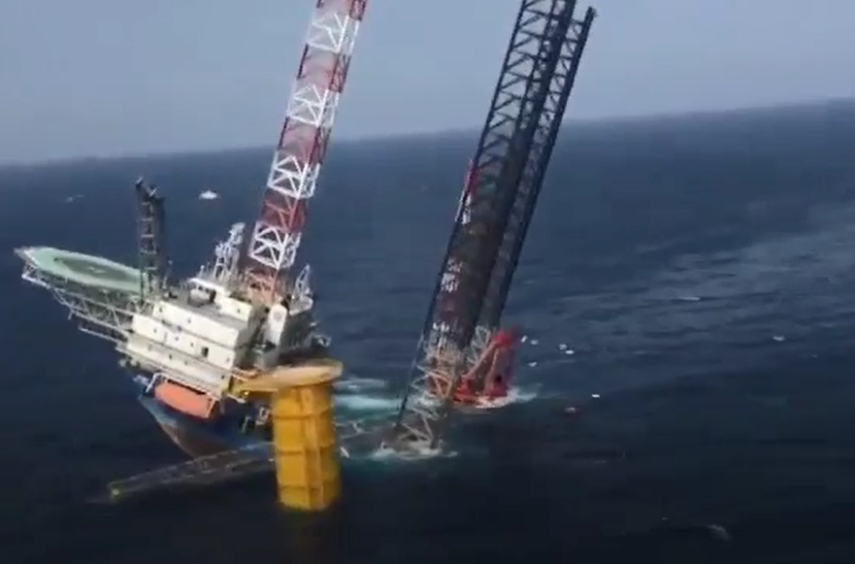 Four people are missing after a wind farm installation vessel partially capsized off the coast of China.
A mass evacuation of crew members has taken place following the incident on Shengping 001 yesterday, according to the country's state-run media.
The vessel was carrying 65 people for work on the Huizhou Gangkou Phase 1 offshore wind project, around 15miles off the city of Huizhou in China.
Around 30 search vessels and helicopters have been involved in the evacuation of 61 workers, according to Xinhau News Agency.
Four missing after offshore platform accident in Guangdong. pic.twitter.com/85UFN7snf2

— CGTN (@CGTNOfficial) July 26, 2021
Navigation warnings are being issued to passing ships, while the South China Sea Forecast Centre has making "drift predictions" for the four workers who remain unaccounted for.
The alarm was raised at 11.26 on Sunday morning with the Guangdong Provincial Maritime Search and Rescue Centre, and the 61 had been rescued as of 3.30pm.
Aerial footage shows the jack-up rig heavily listing in the water near an offshore wind turbine.
According to the China Global Television Network, the vessel has since been stabilised.
China General Nuclear Power Corporation (CGN), which owns the Huizhou Gangkou Phase 1 project, has previously stated it plans to connect the wind farm to the grid in 2022.
It comes two months after a Velesto Energy jack-up rig off Malaysia capsized while working on a job for ConocoPhillips.
The Naga 7 vessel started to sink after it apparently punched through the seabed.
Last month Velesto told insurers it had "abandoned" the rig, and it is unclear whether it will be recovered or kept as a man-made reef on the seabed.
Velesto and ConocoPhillips have, to date, failed to answer requests from Energy Voice regarding where responsibility for an inquiry into the accident lies.
Recommended for you

Shell Penguins FPSO sets off for North Sea – via Haugesund