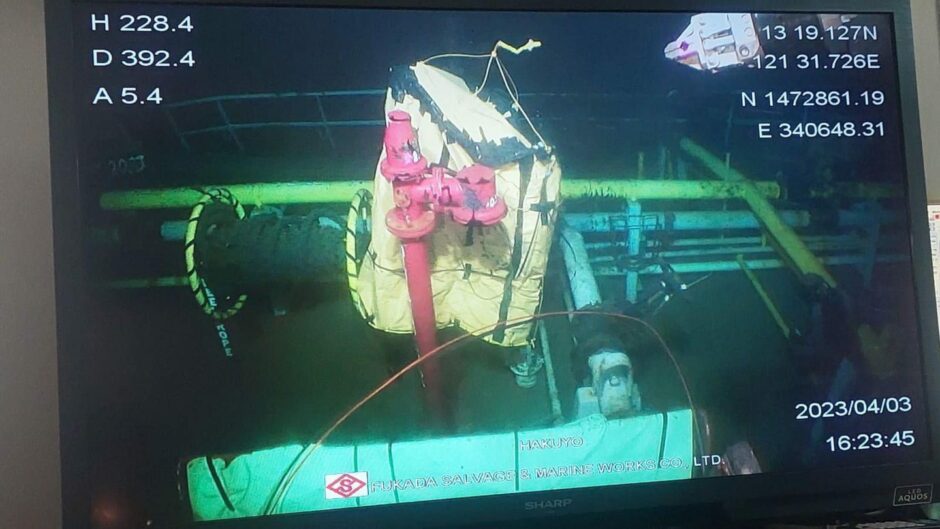 Efforts are mounting offshore the Philippines to tackle an oil spill, stemming from a products tanker that sank on February 28.
SkyTruth, a group that tracks environmental disasters by satellite, showed a "long, sinuous oil slick from the sunken tanker Princess Empress on April 2". The image came from the Sentinel-2 satellite.
"The sharp curves in the slick suggest this area has very complex currents. But we still see no indication that oil from this incident has travelled very far from the source," SkyTruth said.
The Philippines Coast Guard reported today that the Pacific Valkyrie, equipped with a remotely operated underway vehicle (ROV), had arrived at the site.
The US Navy Supervisor of Salvage and Diving contracted the Tidewater anchor handling tug supply vessel (AHTSV). The vessel will carry out DPV surveys and 3D mapping of the Princess Empress, the coast guard said.
The Pacific Valkyrie will also take steps to tackle the spilled oil, using its ROV.
A Japanese ROV, the Hakuyo, has also began a "bagging operation" in an attempt to contain the leak from the product tanker. The Shin Nichi Maru repair vessel is also on site.
The Princess Empress was reportedly carrying around 800,000 tonnes of heavy fuel oil when the vessel sank. It is in around 400 metres of water.
The exact reason for the vessel going down is not clear, although it was in rough weather conditions when the captain ordered his crew to abandon ship.
Permit problems
There have been some concerns about the insurance on the vessel. However, the International Oil Pollution Compensation Funds (IOPC) Funds and the P&I Club have given assurances that they would cover shortfalls.
An official with the Filipino maritime regulator said last month that the Princess Empress did not have the right permits for operation.