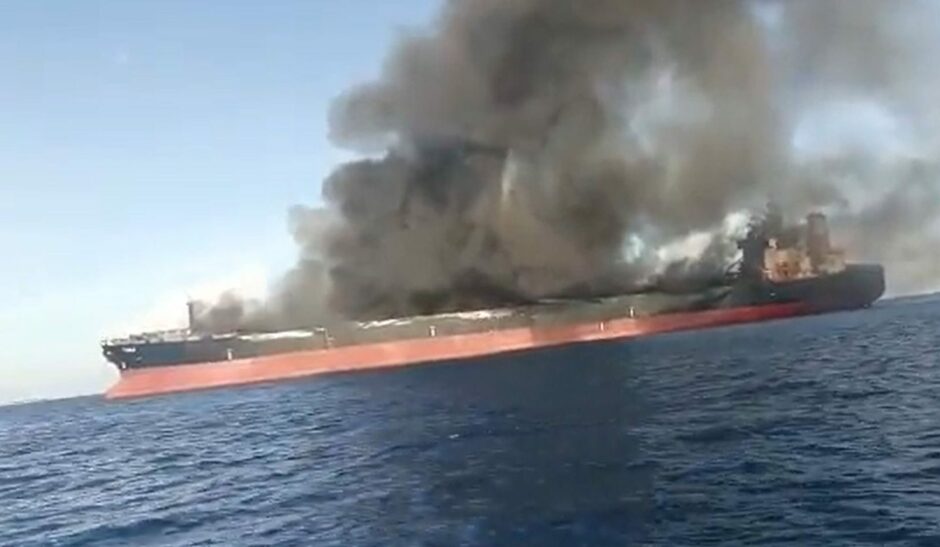 Three crew members are missing from a Gabon-registered tanker that caught fire on Monday in the South China Sea, a Malaysian maritime enforcement agency official said on Tuesday.
The Pablo, an Aframax-class crude oil tanker whose insurers are unknown, was traveling from China and was empty, according to ship-tracking data compiled by Bloomberg. The ship is designed to hold about 700,000 barrels of oil when full.
A vast shadow fleet of aging tankers has been enlisted to carry sanctioned oil across the globe, raising questions about safety and insurance standards.
The Pablo was built in 1997, meaning it's far beyond the age at which most tankers are sold as scrap. It was observed in Iranian waters in 2022, said shipping sources who didn't want to be named as they're not authorized to speak to media.
The Maritime & Port Authority of Singapore confirmed in a statement that 25 out of 28 crew members on the Pablo had been rescued by passing vessels about 40 nautical miles from Pulau Tinggi, an island off Malaysia's southeastern coast.
There was still some smoke coming from the Pablo, Syahrul Hisham Azli Putera bin Hamzah, a sub-lieutenant in the Johor division of the Malaysian maritime agency, told Bloomberg on Tuesday afternoon. Three crew members were still missing and there was no oil spilled, he said.
Much of the world's maritime trade passes through the South China Sea, making it a particularly vulnerable region for any shadow fleet accidents. A supertanker sanctioned by the US Treasury ran aground in Indonesian waters last year.