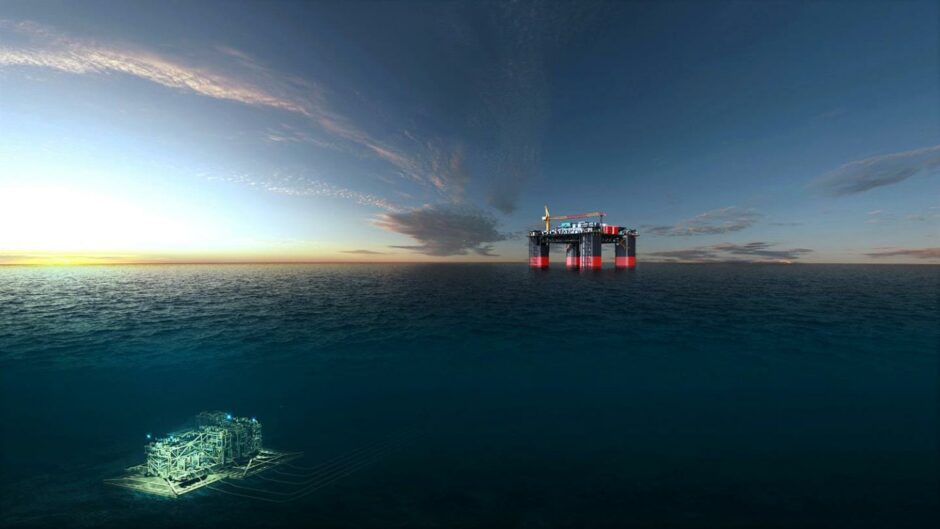 Subsea opportunities will be plentiful in Asia Pacific over the coming years as international oil companies (IOCs) and national oil companies (NOCs) advance a backlog of projects, while offshore wind developers accelerate activity across the region.
Eni, Shell, Woodside, Inpex, Petronas and PTT Exploration & Production (PTTEP) are all preparing to move projects forward.
Based on the latest analysis from consultancy Rystad Energy the subsea market in Asia Pacific is primed to pick up this year with total spending of around $4 billion on subsea umbilicals, risers and flowlines (SURF), equipment and services, as operators dive into deep-water developments.
However, subsea greenfield expenditure in the region will only make up about $1.5 billion of the total spend after project sanctioning activity dropped drastically due to the Covid-19 pandemic. Still, Rystad expects the greenfield market to slowly start improving from 2023 and show a gradual recovery over the mid-term with spending reaching a little over $2.5 billion in 2025.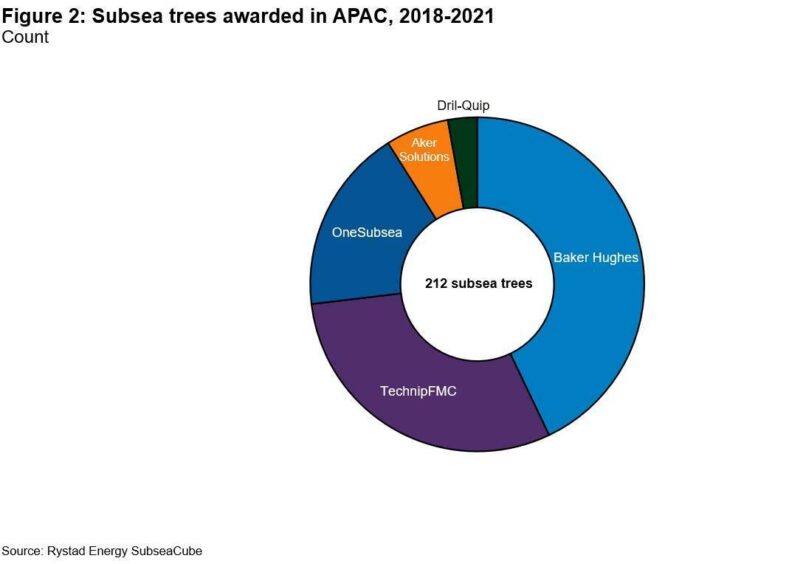 Crucially, numerous brownfield and greenfield projects offer a plethora of opportunities for the subsea supplier industry, including UK players, particularly in the deep-water market, over the coming years.
UK companies can leverage their competitive advantage in deep-water projects as there is a lack of capability in the region, Madana Nallappan, a Kuala Lumpur-based regional energy analyst at the Energy Industries Council (EIC) told Energy Voice.
There are plenty of opportunities for subsea companies, particularly in Southeast Asia, as many of the projects involve subsea tieback developments, added Nallappan.
Neil Gordon, chief executive of the Global Underwater Hub (GUH), told Energy Voice, that there is a particular need in Asia Pacific for subsea technology that enables low-cost subsea tiebacks to host facilities, extending life of installations and subsea systems, such as controls, smart digital system monitoring, seabed survey remote operations, as well as data management and analytics.
Significant Potential
In the Asia Pacific offshore subsea sector there remains significant potential given the many large pre-final investment decision (FID) projects that exist in both Southeast Asia and Australia, Angus Rodger, research director, APAC upstream, at Wood Mackenzie, told Energy voice.
However, it is far from plain sailing, said Rodger. "While there are significant subsea contracts already underway – such as Scarborough and Barossa in Australia – much uncertainty remains over the timing and commerciality of the remaining big pre-sanction projects."
Sizeable subsea prizes potentially await at Woodside's Browse in Australia, as well as Inpex's Abadi and Chevron's Indonesian Deepwater Development (IDD) in Indonesia, but the timing on these much-delayed developments remains unclear due to ongoing commercial, carbon and divestment challenges, he added.
Still "there are other smaller projects that will keep the subsea wheels turning. These include Shell's Bratwurst and SK 318 projects in Australia and Malaysia, respectively, but even here project timing is murky and their importance in global portfolios unclear," said Rodger.
Of greater certainty will be future brownfield phases at large existing Australian liquefied natural gas (LNG) developments – such as Chevron's Gorgon and Wheatstone projects, as well as Inpex's Ichthys – as core fields and reservoirs are depleted and backfill resources developed. This will provide a steady flow of work to subsea contractors through to 2030, added Rodger.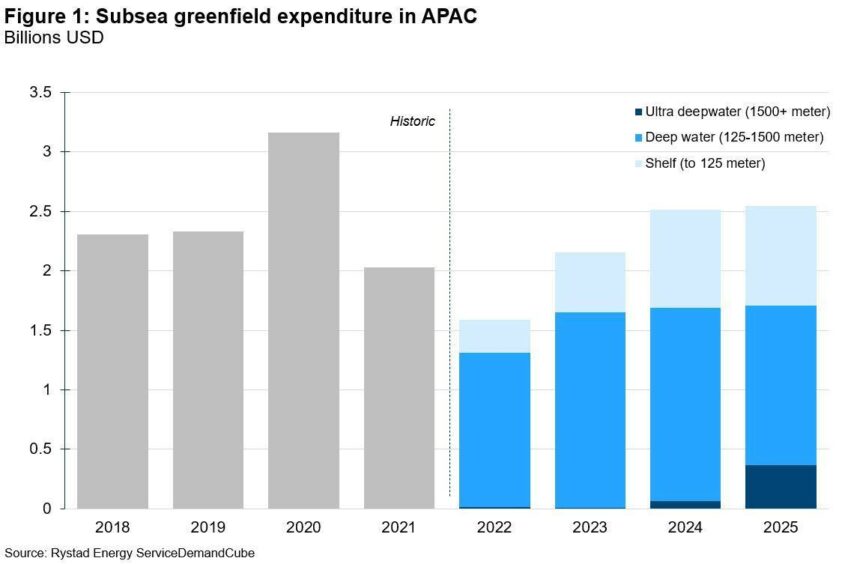 "The best-placed subsea contractors to succeed in this unpredictable environment will be those who have the strongest relationships with the key regional players. They also need to have the flexibility to deliver projects cost-effectively and at speed to aid industry's aims to increase margins from short and medium-cycle projects," said Rodger.
Although in the medium-term until 2025 many of the greenfield subsea projects will be in Australia, there are also significant opportunities in Malaysia and China. In the longer-term, subsea spending is expected to increase in India and Indonesia, Abhinav Parashar, an analyst with Rystad Energy told Energy Voice.
In India, over the longer run, there will be several developments in waters more than 1500 metres deep, with increasing demand for more complex subsea systems, added Parashar.
Historically, in Asia most of the subsea equipment and SURF contracts have been awarded to large international subsea players, such as TechnipFMC, OneSubsea, Baker Hughes, Aker Solution, Saipem, Subsea 7, and McDermott, said Parashar.
Baker Hughes has dominated the Asia Pacific subsea equipment market over the past four years, winning more than 40% of the total subsea trees awarded from 2018-2021, data from Rystad showed. Most the contracts were in India and Australia. Meanwhile, subsea giant TechnipFMC booked close to 30% of the subsea trees awarded in the region over the period, most of them from CNOOC and Petronas.
Offshore Wind
However, it's not just oil and gas, offshore renewables, and particularly wind, offer strong growth opportunities through to 2030, especially in China, Japan, and Taiwan, followed by Vietnam and South Korea on a smaller scale, said Rodger.
Offshore wind projects in Taiwan, Japan and South Korea, offer the main subsea opportunities this year, Kevin Liu, head of energy, Asia Pacific, at Scottish Development International (SDI), told Energy Voice.
UK companies have been involved in the development, installation and commissioning of offshore wind, particularly in Taiwan, with sizeable wins in design, survey, excavation, cable and structural engineering services, added Liu.
"We also foresee emerging opportunities in operations and maintenance as projects start to come online, especially in terms of digital inspection and underwater robotics, which are very much UK strengths. Lastly, I believe that in the three-year outlook, UK capabilities in floating offshore wind will also become highly sought after. Key areas include mooring and anchoring, dynamic cabling and subsea infrastructure, in which UK companies again have industry leading solutions," said Liu.
"Aside from offshore wind, there is also strong potential for UK companies to get involved in offshore carbon storage projects, leveraging the extensive techno-economic studies that have already taken place in the North Sea with respect to Acorn and Zero Carbon Humber. I think this is a really exciting area for UK companies to explore, particularly in markets where there are limited domestic offshore oil and gas capabilities to borrow from," he added.
Although the bulk of UK subsea companies are currently operating in Taiwan, where there are live projects, there is increasingly interest in Japan and South Korea. China, which will soon become the world's largest offshore wind market, "will also remain of significant interest to most UK companies, yet exceptionally challenging at the same time, owing to the very strong domestic competition in place, whether in terms of capabilities or price," said Liu.
Meanwhile, "in Southeast Asia, the market is waiting on renewable energy policy in Vietnam to become clearer and more favourable to foreign investment, while the Philippines is forging ahead with its plans to develop offshore wind. Australia's long awaited Offshore Electricity Infrastructure Bill that was passed in late 2021 will also make it an exciting market for UK companies in the five to ten year outlook," added Liu.
Liu also highlighted that UK companies and organisations "ought to reiterate to ourselves and our stakeholders, again and again, that so much of the UK's subsea expertise comes from our decades of oil and gas experience, not just in UK waters but also globally, which is very hard to come by. Our companies and people have worked in some of the world's remotest territories and harshest seas, are trained to the highest international standards, and have developed world-class skillsets that can only come with time and hard graft."
Indeed, UK companies also have decades of experience managing aging offshore assets in the North Sea and with many facilities in the Asia Pacific region now reaching late life maturity, the experience and technology of how to monitor and maintain the safe operation of facilities is highly sought-after, said GUH's Gordon.
Recommended for you

European knowhow critical for Asia as offshore wind energy ramps up