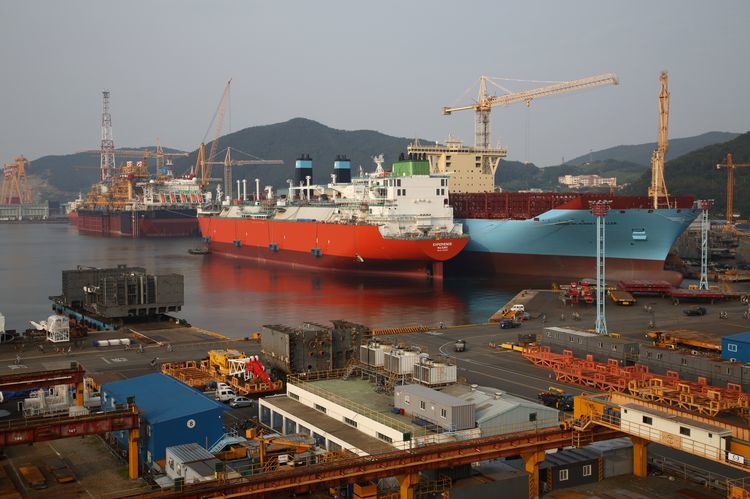 South Korea's National Pension Service agreed to restructure 1.55 trillion won ($1.4 billion) of bonds issued by Daewoo Shipbuilding & Marine Engineering Co., helping the world's largest shipbuilder tide over a payment crisis that had threatened to almost shut the company.
An agreement came after Daewoo, the Korea Development Bank and Export-Import Bank of Korea took steps to ensure repayment of the debts, the pension service said in a statement April 16. Banks agreed to convert 80 percent of loans to Daewoo into shares and to extend maturity of the remainder, the Financial Services Commission said separately.
The decision by NPS, the biggest holder of Daewoo's debt, is crucial because it will weigh on the discussions other bondholders are having today and tomorrow. The reprieve means the vessel maker, unprofitable in each of the past four years, will get more time to make payments on bonds that are due this month.
"Immediate concerns have been resolved and this is good," said Kim Ki-myung, a credit analyst at Korea Investment & Securities in Seoul. "Daewoo Ship will live and can get back to concentrating more on its day-to-day efforts to turn itself around rather than scrambling to meet its upcoming debt obligations."
A decision on the financial restructuring of Daewoo was the biggest test for South Korea's lenders after KDB, the shipbuilder's majority shareholder, allowed Hanjin Shipping Co. to collapse last year after refusing to support its debt restructuring plan. KDB was in favor of restructuring the loans, saying Daewoo doesn't have the cash to pay.
Hanjin's demise stranded about a hundred container ships around the world and roiled the global supply chain, putting some 11,000 jobs at risk. A Daewoo shutdown could have been much worse, jeopardizing up to 50,000 jobs and $34 billion of vessel orders from companies including A.P. Moller-Maersk A/S and Statoil ASA.
KDB and the Export-Import Bank of Korea said last month they would provide 2.9 trillion won in additional loans and swap about 1.6 trillion won of debt for equity if other creditors and bondholders agree to convert up to 80 percent of their debt and extend maturities for remaining loans by as much as five years.
Daewoo was due to meet with its bondholders today and tomorrow, according to regulatory filings. A failure to final approval would mean the shipbuilder will be subject to mandatory court receivership and debt restructuring from around April 21, said Joung Young-suk, KDB's head of corporate restructuring.
"As the normalization of Daewoo Shipbuilding should not be delayed any longer, and cannot be delayed, KDB will put all of its efforts to get an approval from the creditors' meeting as well as persuading investors," the lender said in a statement last week.
The company's shares were halted from trading last year.
Four Losses
Daewoo said it had 14.4 trillion won of debt and 224.3 billion won in cash and equivalents as of December. It needs to repay the NPS about 200 billion won, or 45 percent of bonds maturing in April, according to two people familiar with the matter. In total, the company owes NPS 390 billion won through 2019, the people said, asking not to be identified as the information isn't public. Daewoo's debt-to-equity ratio was 2,732 percent at the end of last year, KDB said in March.
Daewoo posted its fourth consecutive loss in 2016 as weak oil prices reduced demand for oil tankers and rigs and a surfeit of other vessels curbed demand for new ships.
The trouble at South Korea's biggest shipbuilder adds to woes in a country convulsed with political and corporate turmoil that has lasted for more than a year. Last month, South Korea's former President Park Geun-hye was arrested after a court ordered her detention barely three weeks after she was ousted for alleged corruption.