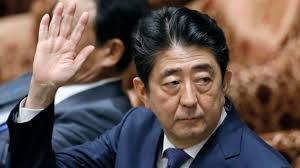 Prime Minister Shinzo Abe has pledged to tackle what he called Japan's two national crises: the military threat from North Korea and an ageing and shrinking population.
Speaking after a decisive election victory, he said he is committed to protect the Japanese people's prosperity and peace from any contingency. He also referred to Japanese people who were abducted years ago and are believed to still be held by North Korea.
"I will pursue decisive and strong diplomacy to tackle North Korea's missile, nuclear and abduction issues and put further pressure to get it to change its policy," he said.
His ruling coalition was returned to power in elections for Japan's more powerful lower house on Sunday.
Mr Abe said Japan's decreasing population and ageing is "the biggest challenge" for his Abenomics policy aimed at Japan's economic recovery from deflation. "The problem is progressing by the minute, and we cannot afford waiting around."
He promised a comprehensive package by the end of the year to deal with Japan's demographic challenges, including investments in education, productivity improvements and pension system reform.
Mr Abe's Liberal Democratic Party and a small coalition partner together secured at least 313 seats in the 465-member lower house, passing the 310-barrier for a two-thirds majority. Three seats remained undecided.
Mr Abe said the result showed "strong support" from the people and thanked them for backing stability and his government's policies.
The victory boosts his chances of winning another three-year term as party leader next September. That could extend his premiership to 2021, giving him more time to try to win a reluctant public over to his longtime goal of revising Japan's pacifist constitution.
In the immediate term, the win is likely to mean a continuation of the policies Mr Abe has pursued since he took office in December 2012 – a hard line on North Korea, close ties with Washington, including defence, as well as a super-loose monetary policy and push for nuclear energy. Stocks rose in Tokyo on Monday morning.
Mr Abe said he will have "deep discussion" on North Korean policies with US President Donald Trump during his planned visit to Japan from November 5-7. He said he will call a special parliamentary session to be re-elected as prime minister and install his new Cabinet, which is expected to retain most of its current members.
Mr Abe's ruling coalition already has a two-thirds majority in the less powerful upper house. Having a so-called supermajority in both houses gives them virtually a free hand to push even divisive policies and legislation.
That would also increase Mr Abe's chances of achieving a constitutional revision, a goal his party and its nationalist supporters have advocated for years. They view the 1947 constitution as the legacy of Japan's defeat in the Second World War and an imposition of the victor's world order and values. The charter renounces the use of force in international conflicts and limits Japan's troops to self-defence, although Japan has a well-equipped modern military that works closely with the US.
Any change to Japan's constitution, which has never been amended, requires approval first by two-thirds of parliament, and then in a public referendum. Polls indicate that the Japanese public remains opposed to amendment.
The win indicates Mr Abe has bounced back from the summer, when support ratings for his Cabinet plunged to 30% after accusations of government favouritism to people connected to him. For the first time since he took office nearly five years ago, he appeared vulnerable as both party leader and prime minister.
The ruling coalition's victory reflects as much the lack of viable alternatives as support for Mr Abe. Turnout was just 54%, as typhoon rains lashed much of the country and delayed final results.
Mr Abe dissolved the lower house less than a month ago, forcing the snap election. Analysts saw it as an attempt to solidify his political standing at a time when the opposition was in disarray and his support ratings had improved somewhat.
His plan was briefly upstaged by the launch of a new opposition party by populist Tokyo Governor Yuriko Koike. But initial excitement faded, and the Party of Hope took only 49 seats.
Another new party, the Constitutional Democratic Party of Japan, won 55 seats and looks to be the biggest opposition grouping. It is liberal-leaning, while both the Party of Hope and Mr Abe's Liberal Democratic Party are more conservative.
Recommended for you
X

OFO partners with C40 to tackle climate change