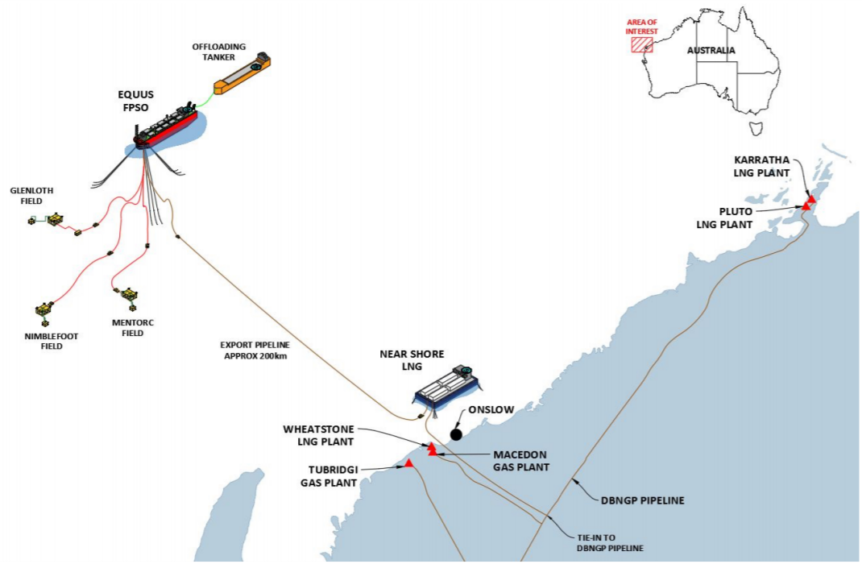 Australia's Western Gas is seeking partners to bring its Equus LNG project into production by 2024. The company has a plan for gas from the offshore Equus fields to be transported, via a 160 km pipeline, to a floating LNG (FLNG) facility near the shore.
Goldman Sachs has been chosen to advise Western Gas on the partnering work, in Australia's Carnarvon Basin.
"Equus is at the right stage of development where the introduction of an experienced and financially capable partner can help progress the project to first gas and realise the value of the greater Equus area," Western Gas' executive director Andrew Leibovitch said. "The partnering process together with the preparation of the project work packages will deliver Western Gas with the financial, project delivery and operational expertise to drive Equus into production in 2024."
Western Gas holds 100% of the project, with Leibovitch saying this gave the company full control "of project design, delivery and partnering across the value chain". Equus holds 2 trillion cubic feet of gas and 42mn barrels of condensate.
Engineering and design work has been carried out on the project by McDermott and Baker Hughes, a GE company (BHGE). They were selected in December 2018.
The first phase of the plan involves three production wells on the offshore fields, tied back to a floating production, storage and offloading (FPSO) unit. It then calls for a dry gas export line to a 2 million tonne per year (tpy) FLNG facility. There is also an onshore pipeline connection in the plan, linking to the Dampier to Bunbury pipeline. This should improve the supply situation in Western Australia.
Western Gas did not reveal how much the plan would cost but said capital expenditure requirements were low and that the facility was modular. The project would provide a "bankable and globally competitive LNG supply".
Work is now under way on proposals for the various packages, on the subsea, the FPSO, the pipeline and the FLNG unit.
The company has previously said it would aim to reach final investment decision (FID) on the project in late 2019 or early 2020.
FLNG is on the rise as an option for the exploitation of offshore gas resources. Western Gas' Equus plan has some similarities to BP's Tortue LNG project, off Mauritania and Senegal, through the use of a shallow-water FLNG unit to exploit deepwater fields. BP took FID on Tortue LNG at the end of 2018.
Western Gas acquired Equus in 2017, from Hess. The US company has shifted its focus to shale plays in the US and deepwater development in Guyana. In 2016, Hess took a pre-tax $938mn charge on Equus.
Recommended for you

West of Shetland: The projects in the UK's oil and gas hotspot