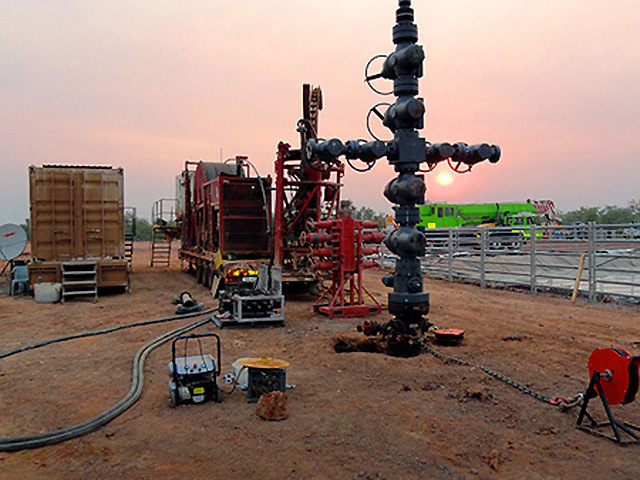 Positive shale gas exploration results in Australia's remote Northern Territory have seen UK-listed Falcon Oil & Gas' share price treble since Friday on expectations that the Beetaloo basin could be on par with shale gas plays in North America.
Gas flowed in a production test at the Amungee NW-1 well in Exploration Permit 98 at a rate that "provides line of sight to the commercialisation of the Beetaloo" according to Falcon chief executive Philip O'Quigley.
Falcon's share price surged from £0.05 on Friday to as high as £0.15 yesterday following Falcon's announcement of positive well test results at the Velkerri dry gas play on 3 September.
The results from the well, which was drilled and tested by Falcon's joint venture partner Origin Energy of Australia, suggest a normalised gas flow rate equivalent of between 5.2 million to 5.8 million cubic feet per day per 1,000 metre long horizontal section, reported Falcon. A typical future production well may have a lateral production section up to 3,000 metre long, Origin said yesterday.
Origin said that "average gas rates of 1.23 million cubic feet per day (1.23 MMscf/d) have been observed over the first three weeks of production testing, however importantly the majority of these flows came from only a portion of the well."
O'Quigley was particularly bullish, commenting that "a recent report by an industry analyst suggests gas flows greater than 3 MMscf/d from a 1,000m horizontal well are required to demonstrate the commerciality of the Beetaloo. Not only does this test result significantly exceed these parameters and significantly increase our assessment of the Velkerri dry gas play, but it also puts the Beetaloo on par with other shale gas basins in North America."
Traders and investors clearly took this bullish sentiment at face value, however there is a long way to go before commerciality on the scale of the North American basins is proven.
Origin general manager Beetaloo and growth assets, Chris White, noted that "further work will be required in coming years to determine if the result can be reproduced on a larger scale, this result indicates the Velkerri dry gas play may be in line with commercial shale plays around the world, based on normalised production rates."
"This is a positive result that supports the decision to undertake a second extended production test at the Amungee well as part of this year's work program," said White.
"These results significantly increase our assessment of potential deliverability and commerciality of future wells in this area," he added.