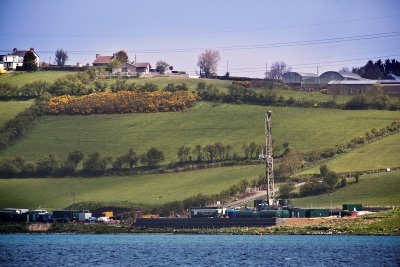 Irish focussed oil and gas firm InfraStrata saw its losses narrow in its latest unaudited results.
The loss for the six month period ended 31 January 2016 of £254,782 (31 January 2015 – loss £599,048).
Following divestment of most exploration assets announced in November 2015, the Company's focus is on the monetisation of its interest in the Islandmagee gas storage project and the drilling of the Woodburn Forest-1 exploration well on licence PL1/10 in County Antrim.
Islandmagee Gas Storage project
o Following completion of the £3.8 million salt core well programme in 2015, the feasibility phase of the Islandmagee Gas Storage project is complete.
The next step in the project's development is Front End Engineering and Design ('FEED') which would take the project to the point where contracts for construction could be awarded. To date over £11 million has been expended on the project.
An EU grant support for the 2015 salt core well programme has been followed by an offer of grant support for 50% of the costs of FEED up to a maximum of €4.024 million. Grant support continues to be available by virtue of the project's status as a Project of Common Interest ('PCI') conferred by the EU due to the strategic importance of the project.
A dataroom for the monetisation of the project has opened.
Funding of the Woodburn Forest-1 well on PL1/10 was completed through a series of Farmout Agreements concluded in January 2016. All consents have been received, site construction commenced on 10 March 2016 and drilling is expected to commence in May 2016. InfraStrata will retain a 10% interest in PL1/10 fully carried through the well.
Chairman Ken Ratcliff, said: "We are delighted with the successful funding of our 2016 work programmes enabling us to concentrate upon securing value for our interest in the Islandmagee gas storage project in addition to drilling of the Woodburn Forest-1 exploration well, both located in County Antrim in Northern Ireland.
"The successful funding of the Group's operations for the year and the successful farmout of the Woodburn Forest-1 well have been achieved in extremely challenging market conditions. We now have the opportunity to realise value for shareholders from these projects and our challenge during the remainder of 2016 is to ensure that these activities progress as swiftly as possible. We acknowledge and appreciate the continued support of our shareholders."
Recommended for you

European gas crises driving a 'great deal' of interest in UK storage scheme