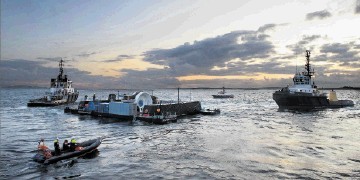 Orkney based energy and environmental consultancy Aquatera has strengthened ties with Japan, becoming a member of a key industry association in the country and entering into a partnership with a leading Japanese offshore operations company.
The Stromness-based firm is now a member of the non-profit Nagasaki Marine Industry Cluster Promotion Association (NaMICPA), which helps support the development of marine renewables in Japan and stimulate further international collaboration.
Meanwhile, Aquatera has forged an official new partnership with Japanese dive operator and offshore operations company, Shibuya Diving.
Last year, the Orkney-based European Marine Energy Centre (Emec) also joined NaMICPA during a marine energy trade mission to Japan.
Toshiyuki Sakai, chairman of NaMICPA, said: "With a focus on marine renewables, the association has been set up to promote marine industry in Nagasaki, supporting businesses within the prefecture via a network of industry, academia and government, as well as international stakeholders.
"Aquatera has a strong connection with Nagasaki, established through several reciprocal visits over recent years, so we are delighted that they have become a cluster member.
Ian Johnstone, Aquatera's head of onshore technology and community, said: "Aquatera has built a strong relationship with the NaMIPCA in Nagasaki during a number of visits to the area and during their visits to Orkney. We are delighted to cement this relationship by joining the association and see this as the next step in supporting the local companies delivering a test site for Nagasaki."
Mr Johnstone also said the new partnership with Shibuya Diving laid the foundation for future collaborations on marine energy projects in Japan and South Asia.
He said: "We have built up a very good relationship with Shibuya Diving over the past few years and it was clear to us from the outset that this was a company which shared our environmental ethos. Importantly, Shibuya Diving has been working in collaboration with local fishermen and maritime communities around Japan, building friendly and supportive relationships, which is something we see as essential for the success of any marine energy project.
"With our involvement in Japan's emerging marine energy industry now increasing and our South Asia portfolio of environmental and energy related projects growing rapidly, it made sense for us to formalise our partnership with Shibuya Diving to ensure both firms are well placed to benefit from the opportunities out there."
Based in Hiratsuka in Japan's Kanagawa Prefecture, Shibuya Diving has extensive experience of working on major marine construction and environmental projects. Aquatera, meanwhile, has been operating in Japan since 2011, supporting local prefectures looking to develop marine energy test sites similar to EMEC.
Recommended for you

Project Pathfinder: New opportunities with Scotwind and HyNet CCS