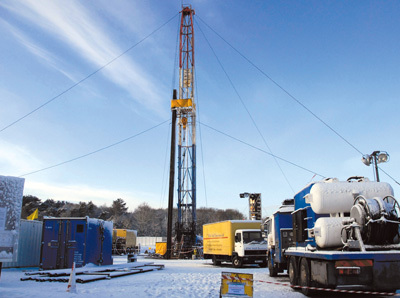 Union Jack Oil the onshore exploration and production company with a focus on drilling, said it remained on track for commercial production from its Wressle discovery in Lincolnshire in the second half of the year and intends to expand its interests in other areas of the UK.
The company has acquired a 10% interest in production licence incorporating the Keddington oilfield in Lincolnshire.
The company, which announced its 2015 full year results, reported a loss of £587,301, but reported a cash balance of £2.6million at the end of April 2016,enough to cover the costs of its current planned production and development projects and to fund its existing exploration drilling programme. The company remains debt free.
Union Jack has been insulated to some degree from the low oil price environment which has been observed by the industry for the past 15 months due to low operating costs onshore in the UK and no material production to date.
Executive chairman David Bramhill, said: "Union Jack is in a sound position with an interest in a discovery at Wressle, which is moving closer to development, with a view to commencing commercial oil production during the second half of 2016, together with a healthy cash balance to progress its existing portfolio of drill-ready potentially high impact exploration prospects.
"I am enthusiastic in respect of the year ahead and I look forward to reporting progress with our projects and new acquisitions during 2016 and beyond."
Recommended for you

20 bids accepted in UK's first ever CCS licence round