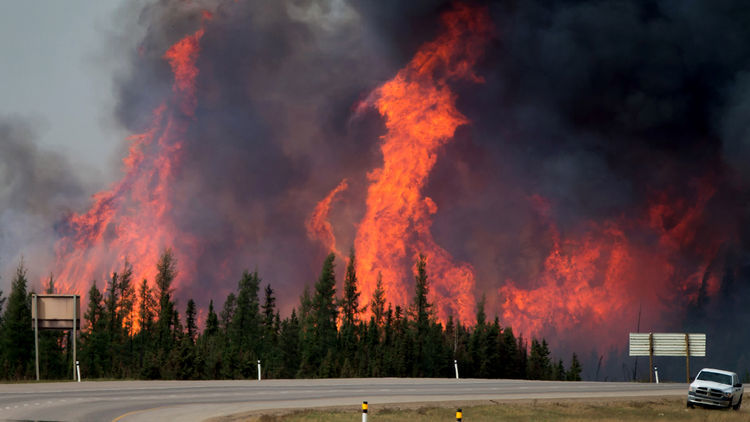 All of the Canadian oil-sands facilities that workers fled last week as a wildfire spread are being allowed to prepare for restart as cool, humid weather has helped contain the inferno.
Alberta lifted mandatory evacuation orders for the last of the accommodation and production sites on Monday, which started the process of inspections by forestry and health officials to make sure they're safe for workers to return. Since late Friday, the province has removed orders that had prevented all but critical staff from remaining on sites connected with the operations of Suncor Energy Inc., Syncrude Canada Ltd., ConocoPhillips and Cnooc Ltd.'s Nexen unit, among others.
Oil-sands operators took more than 1 million barrels a day of output offline this month as a wildfire forced the evacuation of workers and the shutdown of pipelines and power supplies. More than 80,000 people fled the blaze from Fort McMurray and surrounding areas initially, and another 8,000 workers were forced to clear out last week as the fire turned back north of the community, thwarting some production restarts. Officials say industry facilities are no longer under threat as firefighters take advantage of better weather to keep the flames at bay.
"Fire behavior has certainly calmed down," Laura Stewart, an Alberta wildfire information officer, said by phone on Monday. "Cooler, calmer conditions are definitely helping firefighters make good progress."
Phased Re-Entry
Suncor, Canada's largest energy company, has started mobilizing workers for a staged restart of its operations in the Regional Municipality of Wood Buffalo, according to a statement from the company. There has been no damage to Suncor's assets, it said. The company had cleared out three sites that account for the bulk of its upstream production: the base plant mine, MacKay River and Firebag facilities.
Syncrude, the joint venture controlled by Suncor, is making progress on a plan to return to operations and will be able to give an update later as to timing for production restart, Will Gibson, a Syncrude spokesman, said Monday in an e-mail. The company had evacuated all but critical staff from its Mildred Lake and Aurora mines.
ConocoPhillips, which had shut down production at its Surmont project south of Fort McMurray on May 5, began the process of bringing workers back on Monday after getting approval. Some have already left for the site and by the end of the week about 350 people will have arrived, Rob Evans, a spokesman, said in an e-mail. There's no estimated date yet for production restart. The project was producing at about 30,000 barrels a day before the blaze.
The Fort McMurray fire that began May 1 and destroyed about 10 percent of buildings in the energy town hasn't grown in recent days and the clearing of heavy smoke has allowed officials to get a better handle on its size. The blaze covered an estimated 5,229 square kilometers (2,019 square miles) on Monday, more than four times the size of New York City. The region had received about 5 millimeters of rain over 48 hours through mid-day Monday, not as much as anticipated, though humidity was at about 50 percent and more showers are forecast, Stewart said.
The fire is expected to be Canada's costliest disaster for insurers and is dealing a blow to Alberta's energy-dependent economy, already reeling from a market downturn for oil. Evacuation orders remained in place on Monday for the communities of Fort McMurray and Anzac. The province has a phased re-entry scheduled for both communities, starting June 1.
Recommended for you

Canada's love-hate relationship with oil and gas