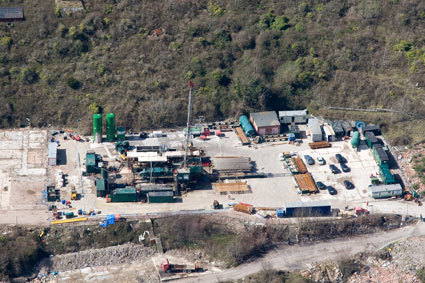 Operator InfraStrata and partner Baron Oil have failed to find hydrocarbons during the drilling of the Woodburn Forest well in County Antrim, in Northern Ireland.
The two London-listed companies said the well was drilled to a depth of 2,000 metres and encountered two conventional sandstone reservoir intervals, the Triassic Sherwood and the Lower Permian Sandstones, but said bother were only water wet.
The well will now be plugged and abandoned.
Infrastrata chief executive Andrew Hindle, said: "Following the divestment of exploration assets late last year this remained our only exploration project with costs fully carried through the well.
"Completing activities associated with the well will complete the work programme obligations on Licence PL1/10."
The licence recently entered its second five year term. It is naturally disappointing not to have encountered a hydrocarbon accumulation and the joint venture will now fully evaluate the data collected in the well and decide where to focus its future exploration activity in the basin, added Hindle.
"We are disappointed not to encounter hydrocarbons in this location but valuable information was gathered on the regional geology while drilling the well which will now be evaluated," said Bill Colvin, chairman and chief executive of Baron Oil.
Recommended for you

Baron Oil says outlook 'transformed' for Dunrobin project in UK North Sea