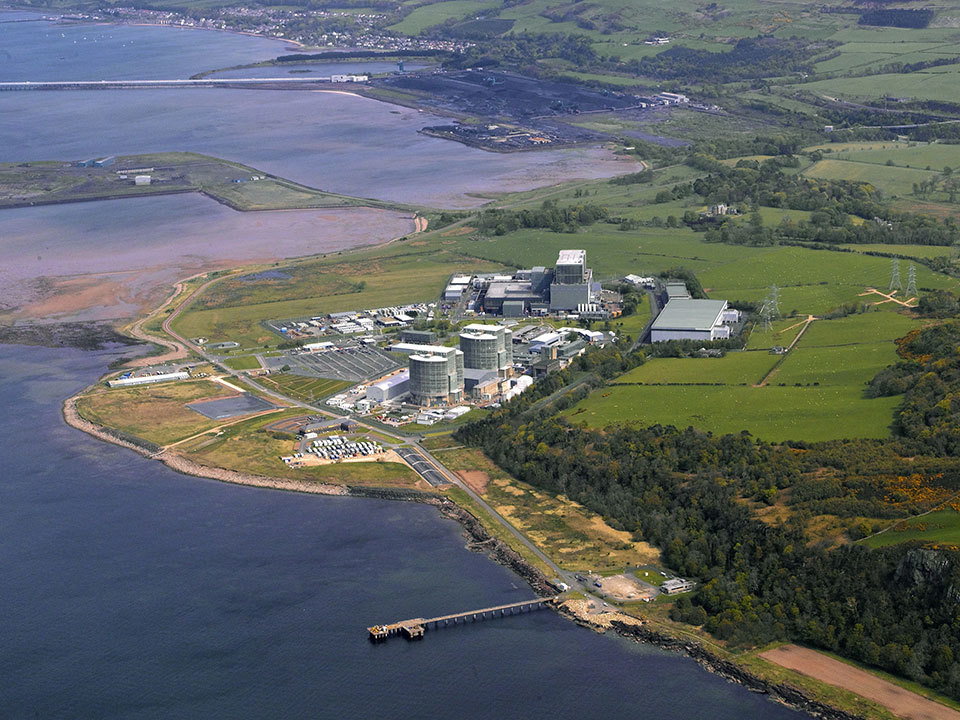 The U.K. could build facilities to capture and bury carbon pollution under the sea at a similar price to offshore wind farms and nuclear plants, a government adviser will say Monday, setting out options for tackling climate change.
Carbon capture and storage could be deployed at a cost of 85 pounds ($113) a megawatt-hour in the early 2020s if ministers introduce policies to back the nascent technology, according to a report by Lord Ernest Ronald Oxburgh, former Chairman of Shell Transport & Trading Co.
Those policies would include setting up a delivery authority similar to that which organized the 2012 Olympic Games. Also needed is a payment program to encourage emitters to collect carbon and pay a transmission and storage company to receive it. The report doesn't suggest how much money is needed or where it could come from.
The report adds to the debate about how to revive CCS, one of the key technologies identified by the International Energy Agency as necessary to fight global warming. While oil and coal producers see CCS as a way to extend the life of fossil fuel reserves amid tightening environmental rules, the technology isn't a commercial reality because of concerns about its cost and the business model needed to stimulate it.
The U.K. is looking for a new strategy on CCS after the Treasury scrapped a 1 billion-pound competition in November that would have allocated support for specific projects. That was a blow to companies including SSE Plc, Royal Dutch Shell Plc and Alstom SA, which were hoping to win funding to build projects that demonstrate the technology.
Credibility Hurt
The shock decision hurt the U.K.'s credibility in its mission to curb carbon emissions, so any new policy program would need to restore confidence among investors the government is committed to CCS, Oxburgh said in a phone interview.
CCS is one of three technologies alongside nuclear and renewables that could help the U.K. meet its 2050 target for reducing emissions by at least 80 percent from 1990 levels, according to National Grid Plc, which manages the nation's electricity distribution network. Demand for CCS will grow if Prime Minister Theresa May decides to scrap a new 18 billion-pound nuclear power plant at Hinkley Point in Somerset.
"There's absolutely no reason why it shouldn't go into fully commercial projects," said Oxburgh. Some environmental groups opposed CCS on the grounds that it helps to prolong the use of fossil fuels at the expense of investment in renewable energy, he said.
CCS Myth
"There was a myth put around that the technology isn't ready by those who couldn't think of any other reason for not moving forward," he said. "It was a sort of delaying tactic."
Previous criticism of CCS for being too expensive can be blamed on the poor design of government competitions to spur investment, Oxburgh's report says. A better-managed program could curb costs to match those of offshore wind or Hinkley by 2030, he said.
Cost Reductions
A government official said the cost of CCS must be reduced further before it becomes viable.
"The costs of carbon capture and storage must come down if it is to play a part in the long-term decarbonization of the U.K.'s economy," the Department for Business, Energy and Industrial Strategy, said in an e-mailed statement. "We will need a range of technologies as we create a clean energy future but above all we must ensure they are affordable."
A new plan for CCS may appear in the U.K. government's fifth carbon budget program, a key document setting out how the country will meet its carbon reduction targets for 2030. Though changes to government ministers following a decision to exit the European Union may delay publication of that plan until next year.
Recommended for you

'Game-changing' Aberdeen carbon capture firm targets £1bn revenues