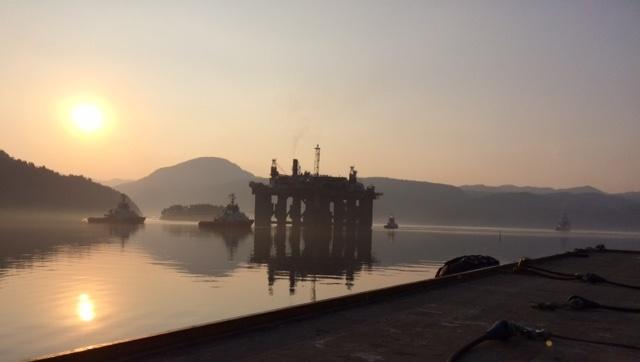 Mediation to avert a wage strike that could shut down three Norwegian onshore oil and gas plants, including Royal Dutch Shell Plc's Nyhamna facility that processes about 20 percent of the U.K.'s gas supply, will start on Thursday.
The SAFE union and the Norwegian Oil and Gas Association representing employers will have until midnight on Thursday to reach an agreement on wages for onshore oil workers when the mediation talks start at 10 a.m. that day in Oslo, the union's first deputy leader Roy Aleksandersen said in a phone interview. Otherwise 338 workers will walk out, shutting Nyhamna as well as Statoil ASA's liquefied natural gas plant at Melkoeya and Exxon Mobil Corp.'s Slagen refinery, he said.
"The three facilities would be shut down," Aleksandersen said. Maintenance work at Slagen would also need to stop, delaying the resumption of refining operations, he said.
The facilities would "most probably" have to halt normal operations, said the employers' head negotiator, Jan Hodneland, who confirmed the possibility of a delay in resuming output at Slagen.
U.K. Supply
The U.K. depends on Nyhamna and the gas it processes from the Ormen Lange field in the Norwegian Sea for a fifth of its consumption. A strike could bolster gas prices amid near-record output from Russia and Norway, the biggest suppliers to the European Union. The last time a strike in Norway's oil and gas industry had an impact on production and exports was in 2012, when the government used its power to resolve a 16-day walkout with compulsory arbitration.
U.K. gas for next-day delivery erased gains of as much as 7.9 percent earlier on Monday to slide 6.9 percent, according to broker data compiled by Bloomberg.
Shell and Statoil are examining the potential impact of a strike, spokeswomen for the two companies said.
Wage negotiations between oil unions and employers have broken down on several occasions since 2012, with the parties usually reaching an agreement in mandatory, state-backed mediation. One exception is an oil-service strike that's currently curbing drilling operations, but not affecting output.
The SAFE union declined to comment on the chances of successful mediation this time round.
"I would believe that it should be possible to reach a solution," said Hodneland of the employers' association. "It's difficult to say."
Ormen Lange produced about 49 million cubic meters of gas a day in July, according to the latest figures available on the website of the Norwegian Petroleum Directorate. Snoehvit, the field that supplies gas to the Melkoeya facility, also known as Hammerfest LNG, produced about 16 million cubic meters a day in the same period.
Recommended for you

'We are at max capacity': Norway weighs role as EU gas partner