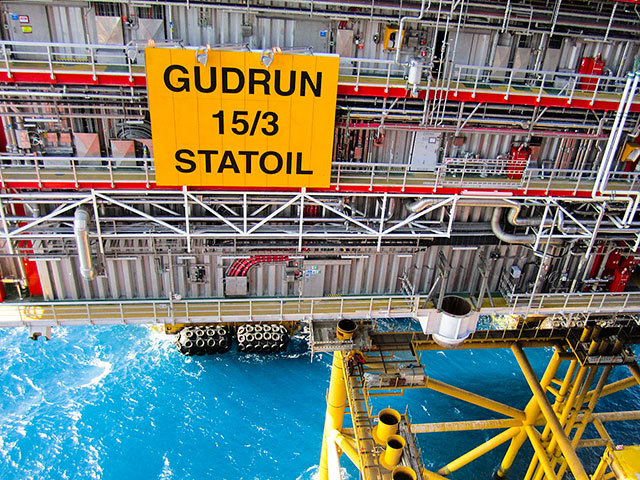 A rally in the price of black gold is giving Norway another fix.
With crude back at $70 a barrel, and a petroleum industry that cut costs to the bone after the oil crash, the stage is now set for another boom. But the good times could hamper Prime Minister Erna Solberg's main aim of moving the economy away from a reliance on oil. As optimism now returns to the economy, signs of real progress on that project are few.
"Ideally, in terms of long-term sustainability, we would like to see a substantial increase in mainland investments, that the new industries that have lived in the shadow of the oil sector get a real boost," said Kjersti Haugland, chief economist at DNB ASA, Norway's largest bank. "Based on the macro data that we now have, we can't say that the Norwegian economy has gone through a massive transitioning."
Norway's Petroleum Directorate now predicts oil investments will rise this year for the first time since 2014 and that output will test another peak in 2023 as new fields start pumping. The real economic risks will appear after that, if the economic transformation hasn't seen more progress. After 40 years of production, Norway's biggest oilfields are being depleted and recent exploration in its Arctic waters has been disappointing.
Here's What's Ahead for Western Europe's Biggest Oil Nation
"We know that the force of the oil industry in the Norwegian economy has been reduced and will be lower than what we've been used to," Finance Minister Siv Jensen said in an interview this month in Oslo. "Yes, it's an important industry for Norway, but it's definitely important that we get more legs to stand on."
Norway was hit by an economic shock in 2014 when the price of oil more than halved in less than a year, prompting central bank Governor Oystein Olsen to warn that "winter is coming." More than 50,000 jobs were lost in the offshore sector, but the government kept the economy afloat by dipping directly into the nation's $1 trillion sovereign wealth fund for the first time to stimulate growth and plug budget holes.
The mainland economy is also dependent on currency traders. Selling off along with oil prices over the past few years, the weakening currency has been key in boosting exports.
"It's important to keep the currency fairly weak, it's a supporting factor along the way," said Haugland. "We'll see an upturn in the oil industry now, but there's no reason to expect that we'll return to the massive lift that we saw before the oil price drop."
The hardest blow from the downturn was felt in the oil region stretching along the country's southwest coast. From its headquarters in the oil capital Stavanger, the region's biggest bank SpareBank 1 SR-Bank, is seeing some local companies rejigging their businesses away from oil.
For example, Statoil ASA, now plans plan to plow one third of its investments into renewable energy by 2030. "What Statoil is now doing by expanding its business model is interesting, it's easy to look at Norway as an oil and gas nation, but we're really an energy nation," said Kyrre Knudsen, chief economist at SpareBank 1 SR-Bank.
Also searching for more legs to stand on is a company like Coast Center Base. Established at the beginning of the Norwegian oil adventure in the 1970s, the company has catered to offshore operations by supplying goods and repairing rigs. It's now looking to get into businesses such as carbon capture and wind power.
"Instead of fighting against changes, you need to swim with the current," Kurt Rune Andreassen, the company's chief executive officer, said in an interview this month.
The head of lending to large companies at DNB says the last few years should be viewed as a wake-up call.
"I think in many ways that the oil price drop three years ago was a blessing in disguise," Harald Serck-Hanssen said in an interview. "It gave us a warning of how it will be like living in a less oil-dependent economy, and it gave many companies the opportunity to adapt."
Recommended for you

Is hydrogen the future for Scotland?