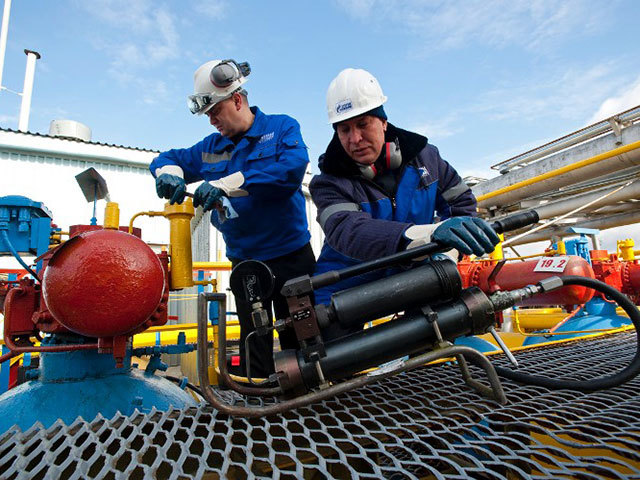 Russia's natural gas export monopoly is set to expand its position as the dominant fuel supplier to Europe after a deal between the two resolved a seven-year-old anti-trust dispute.
The agreement between Gazprom PJSC and the European Commission gives gas buyers more flexibility in handling imports and greater leverage to push for lower prices. That's likely to make flows from Russia more attractive than alternatives such as expensive new links to fields at Europe's southeast corner or tanker shipments of liquefied natural gas.
Easing tensions with Russia will make it more difficult for countries from the Middle East and Americas to get a piece of Europe's lucrative energy market, where gas is trading at roughly double the level prevailing in the U.S. Cheaper supplies on more flexible terms also makes it more difficult for Europe to broaden its sources of energy to reduce the risk of a cutoff from any one of them, an idea that President Donald Trump's administration has been pressing.
"Gazprom knows that Europe will always represent its key market, it knows that it's very difficult to diversify away from Europe," said Simone Tagliapietra, analyst at the Bruegel research group in Brussels. "If the Russian gas becomes cheaper, U.S. LNG will be less competitive if the U.S. is not able to cut down the price."
Europe relies on Russia for about a third of its gas, and Gazprom's shipments to the continent reached a record a last year and are only expected to grow. In recent weeks, as the weather warms and demand for heating eases, the pipeline company is shipping in supplies of the fuel at rates that are more typical for a hard winter.
Countries from Poland to Lithuania wanted the EC to fine Gazprom for what they see as years of overcharging for the fuel. The EC said binding the Russian company to European free-trade rules will be more important in the long term than any settlement where cash penalty was extracted.
"These obligations will significantly change the way Gazprom operates in central and eastern Europe to the benefit of millions of European consumers when they heat their houses, when they cook their food and to the benefit of European businesses who rely on gas for their production," EU Competition Commissioner Margrethe Vestager told reporters in Brussels on Thursday.
While the deal with Russia enables eastern member states to get fairer prices, it simultaneously increases the political premium they will have to pay for getting gas from overseas and diversifying away from Russia. Alternatives include LNG shipped in from places such as Algeria and Qatar. It may also put pressure on the U.S., which is trying to gain a footing for its own LNG exports in Europe's market.
Trump and his officials are promoting U.S. supplies as a way to ensure energy security against Russia. Those suggestions had a warm reception in Poland and Lithuania, where policymakers have historically sensed a greater threat from Russia. And incidents linked to Russia such as meddling in elections and the poisoning of a former spy in London have put security issues at the forefront of the debate.
At a briefing in Copenhagen, a U.S. envoy pleaded for Europe to consider carefully who it's relying on for gas — urging Europe both to take more LNG and to scrap the Nord Stream 2 pipeline that would give Russia a pipeline route to Germany that avoids countries like Ukraine that rely on transport revenue.
"What price freedom?" Dan Brouillettes, deputy U.S. energy secretary, told reporters in Copenhagen on Thursday. "That's an important concept. We're talking energy security and not so much economics here."
Utilities from Germany to Italy to Denmark have over the past decade reached agreements with Gazprom to lower prices or to bring them in line with European hubs, either via negotiations or in courts. Uniper SE, the Russian company's biggest customer in Europe, voiced relief that the EU dispute was settled. Analysts see the deal translating eventually into more competitive costs.
"In eastern Europe Gazprom has a monopolistic position, and I think it will help lowering the prices," Geoffroy Hureau, secretary-general of Cedigaz, a Paris-based industry research group, said by phone. "In northwestern countries, in France or Italy, it will not have much of an impact."
The result is that Gazprom's clout is likely to grow in the coming years so long as political concerns about Russia remain secondary.
"We will keep buying quite a lot of Russian gas in the future simply because all the alternatives are more expensive," said Tagliapietra, the analyst at the Bruegel research group. "Economics matter."
Recommended for you
X

Saudi Arabia, Russia discuss scaling back global oil cuts