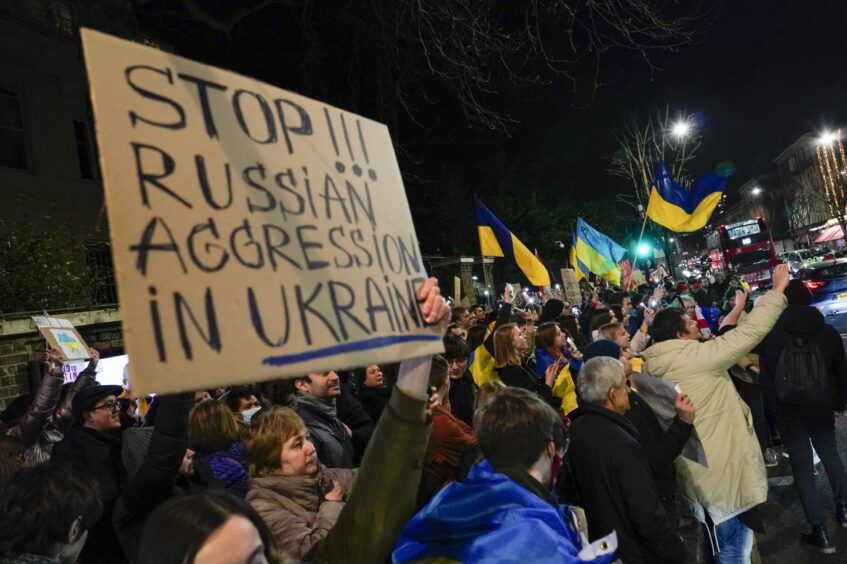 BP, Wintershall DEA and IOG are among the North Sea firms which are monitoring UK Government sanctions against Russia, and could be impacted as tensions escalate.
Russia's invasion of Ukraine sent Brent Crude oil beyond $100 for the first time since 2014 and drove up European gas prices, while the UK is imposing sanctions in response to the attack.
London-headquartered BP has a 19.75% holding in Russian state-owned operator Rosneft, one of Russia's largest oil companies, which has a secondary listing in London.
BP shares dropped more than 4% in morning trading to 365.50p as Vladmir Putin sent troops into eastern Ukraine, with analysts pointing to its holding in Rosneft as the main driver.
The UK Government has already outlined its first tranche of sanctions targeting Russian banks and individuals, aimed at pushing Russia out the Western financial markets.
Meanwhile, Prime Minister Boris Johnson said another "massive package of sanctions" would be put in place to "hobble Russian economy".
A BP spokesperson said it is monitoring the situation closely.
Alex Kemp, petroleum economist at Aberdeen University, said: "One of BP's biggest investments is a substantial share in Rosneft, the Russian oil company. That's one of its biggest investments.
"The market will be thinking there is a problem there, because if western governments impose sanctions then the Russian government may take retaliatory measures – the market thinks there is some risk attached to a very big investment in Russian oil and gas."
Ashley Kelty, analyst at investment bank Panmure Gordon said: "Investors are worried that sanctions will be expanded to target the energy sector and this will clearly hurt BP if Rosneft is captured by them.
"However the impact is offset slightly by the surge in crude and gas prices."
BP's rival Shell, also headquartered in London, has a strategic agreement with state-owned Gazprom. Shell was forced to give up control of the Sakhalin project in 2006, but still holds a modest stake.
French-headquartered TotalEnergies owns 19% of Novatek, Russia's largest LNG firm. TotalEnergies shares were down more than 3% in morning trading.
Wintershall DEA, Europe's largest independent exploration and production firm, cancelled a press conference on its annual results this morning due to the situation in Ukraine.
The UK is only a small portion of the Wintershall DEA business, however Russian state-owned Gazprom is involved in its Sillimanite field on the UK-Dutch border.
Wintershall DEA is minority owned by Letter ONE group, which is in turn controlled by Russian oligarch Mikhail Fridman.
In a statement today, Wintershall DEA chief executive Mario Mehren said: "The Russian President has ordered a military operation against Ukraine. We view this military escalation of the conflict with great concern and dismay. People are dying. We are shocked by what is happening.
"The latest military escalation also shakes the economic cooperation between Russia and Europe that has been built up over decades and will have far-reaching consequences. To what extent cannot yet be foreseen."
Another North Sea company with links to Gazprom is IOG, which is working towards first gas for its flagship Saturn Banks development in the North Sea.
IOG signed a deal in July to sell gas from Saturn Banks to Gazprom Marketing and Trading, a London-listed subsidiary of the Russian firm.
The North Sea operator made no comment on the matter.
There are no sanctions in place against Gazprom Marketing and Trading at present and it should be noted the deal was made as part of a competitive process involving 10 bidders. Should sanctions come through against Gazprom, it is a seller's market given high gas prices.
North Sea firms experienced a similar issue in 2019, when Serica's Rhum field was impacted by US sanctions on Iran due to the National Iranian Oil Company (NIOC) holding partial ownership.
For UK operators, the government is currently consulting on climate checkpoints on the licensing regime.
The Committee on Climate Change supported "stringent tests" on North Sea licensing, but stopped short of a ban on exploration.
The UK is not reliant on Russia for its gas, however the GMB Union said energy security remains a key issue supporting the need for new oil and gas fields.
GMB National Secretary, Andy Prendergast, said: "No politician should rule out new fields – we'd be cutting our nose off to spite our face to get to net zero by relying on Russian and Qatari gas.
"As we all know, net zero doesn't actually mean zero carbon – the UK will still be using oil and gas in 2050 under all the projections.
"Tens of thousands of jobs are linked to the sector – we need a long-term plan for quality decommissioning jobs, and linking continued production to the highest environmental and labour standards.'