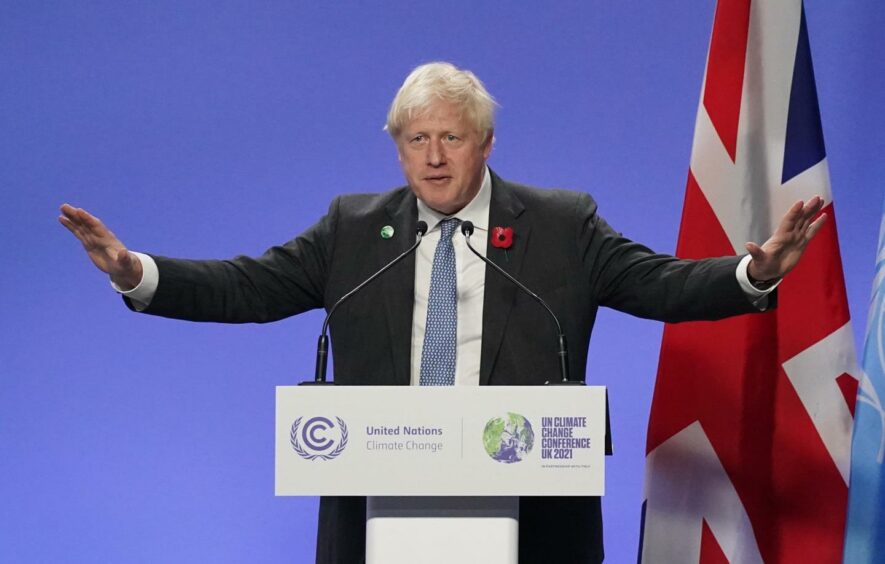 Boris Johnson wants a "climate change pass" for the gas industry to wean western countries off supplies from Russia.
The Times reports that the Prime Minister particularly wants the US and Canada to be able to ramp up its own production to remove the "leverage" the Kremlin has over European countries.
A government source told the newspaper that Boris Johnson "is interested in giving the gas industry a climate pass in the transition to nuclear and renewables".
Details of what the pass would entail have been left obscure.
Gas market prices have hit record highs in recent days as Russia's invasion of Ukraine rumbled on, while oil shot up to neatly $140 a barrel earlier as traders predict further sanctions.
Kaushal Ramesh, senior analyst at consultancy Rystad Energy said at these prices "we are likely approaching the limits of affordability in Western Europe".
"The eye-watering risk premium suggests expectations that gas flows will potentially be disrupted by sanctions on Russian energy exports or damage to pipeline infrastructure, or simply a halt in flows from either side."
It comes as UK business secretary Kwasi Kwarteng penned an op-ed in the Daily Mail saying domestic supply was a "national security issue" for the UK and that Russian gas had been the "Achilles heel" of western sanctions.
He said that while the UK does not have a supply issue, it remains exposed to global prices which are impacted by Russia.
The country is the largest exporter of pipelined gas in the world, leaving European countries, in particular, vulnerable as its actions in Ukraine send markets reeling.
The UK, meanwhile, imports around 4% of its total gas from Russia.
Speaking to the German Die Welt newspaper last week, Boris Johnson was asked whether EU countries should stop buying Russian oil and gas.
He said that a "collective European strategy and a Western strategy to diversify away from this dependence" is needed.
The move comes months after the COP26 climate summit in Glasgow, which urged a shift away from fossil fuels.
Oil briefly touched $139 a barrel on Monday after the US said it was discussing a ban on Russian crude imports.
The White House has so far resisted restrictions on Russian crude imports due to concerns about the impact of rising prices on consumers, but most buyers are refusing to take it, resulting in an embargo in all but name.
Greenpeace UK's head of politics Rebecca Newsom said: "Boris Johnson is right that we urgently need to end our dependence on Russian gas, but more drilling in the North Sea is not the solution. It could take a quarter of a century to open up new gas fields and the product will then be sold to the highest bidder on the global market, having no impact on our energy bills.
"It makes a lot more sense to reduce our gas dependence by insulating homes, installing heat pumps and boosting renewables. Germany has just announced billions of pounds of investment to transform its economy, and the EU is about to unveil a plan to ditch Russian gas.
"Where's the UK's plan? With the Spring Statement just around the corner, ministers should announce an Emergency Energy Package with £10bn new funding to get the country off gas. By doing so we can weaken Putin's grip, protect households from soaring bills, and tackle the climate crisis."