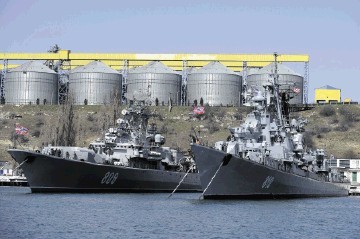 Russian Energy Minister Alexander Novak said Moscow would cut gas supplies to Ukraine this week because Kiev had not paid up front for more gas and might also halt coal supplies to Ukraine in retaliation for a power blackout of Crimea.
Alexander Novak, in comments on a Russian radio station, was speaking as Russian-annexed Crimea continued to rely on emergency generators to meet its basic power needs after unknown saboteurs blew up electricity pylons supplying the peninsula with electricity over the weekend.
Pro-Ukrainian activists have so far prevented repairs to the damaged pylons and associated power lines.
"Today or tomorrow gas deliveries will be stopped because of lack of advance payment," said Novak, saying Ukraine was in any case using very little Russian gas.
He complained that Ukrainian authorities were not doing what they needed to allow repair crews to restore power to Crimea "out of some kind of political motivation", calling their inaction a crime.
"There are different options, political ones, economic ones," said Novak, when asked how Russia could retaliate.
"Russia delivers coal to the Ukrainian energy sector. We could, and maybe in this situation we need to, take a decision about halting deliveries of coal by our commercial organisations which deliver coal to Ukrainian power stations."