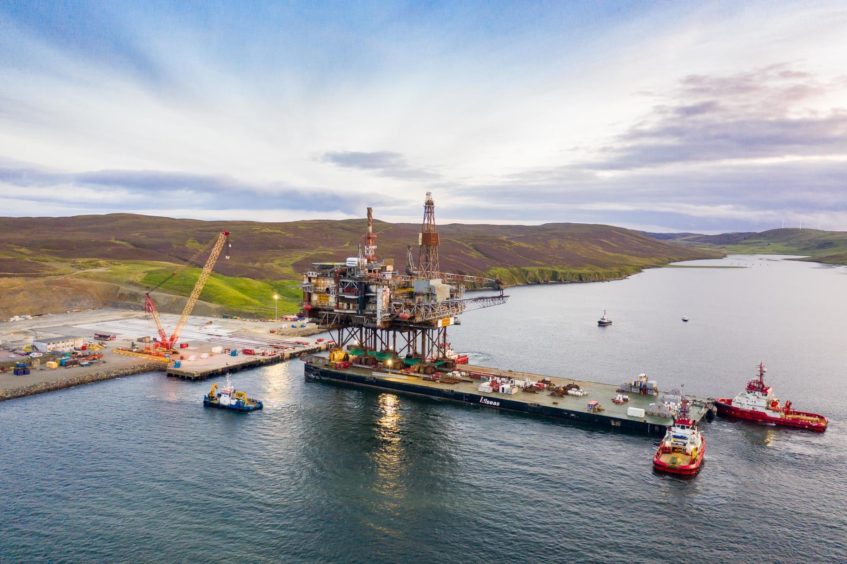 Harbour and industry chiefs say a £9 million funding pledge for a "game-changing" ultra-deep water decommissioning facility in Shetland is an important step in the right direction.
The Scottish Government said it would front up the investment in the heads of terms of the Islands Growth Deal for Orkney, Shetland and the Outer Hebrides.
Partners in the agreement will work on the full business cases for approval by the Scottish and UK governments, with funding to be released from 2022-23 onwards.
A 2018 Scottish Government feasibility study showed the Dales Voe base at Lerwick was the best place in the UK to build an ultra-deep-water port for scrapping large oil installations, to the annoyance of stakeholders at the Port of Dundee.
Speaking at a gathering of industry chiefs in Lerwick in September 2018, Scottish Energy Minister Paul Wheelhouse said the infrastructure upgrade would require investment of £30-£40 million.
Mr Wheelhouse said he hoped UK ministers would back the project, which aims to create the required new facility with a minimum depth of 24 metres.
At the time, Sandra Laurenson, then-CEO of Lerwick Port Authority (LPA), said the next step would be to draw up a detailed business plan explaining how the project could be delivered.
The absence of an ultra-deep water port in Scotland and England has resulted in several platforms which served in the UK North Sea being taken to Norway for dismantling and recycling.
A number of Norwegian ports boast water depths of 24 metres, allowing heavy-lift vessels to set platform topside modules directly onto the quay.
At the likes of Dales Voe and Able in Teesside, platforms have to be transferred onto barges before being "skidded" onto their quays, a slower and more expensive process.
Following the publication of the Islands Growth Deal heads of terms, an LPA spokesman said considerable progress had been made, including design, site investigation and financing.
"And the work continues," he said, adding: "The Islands Deal is a significant step forward and the game-changing project will now be advanced on the sound footing of government funding, a first step in the funding."
Will Rowley, interim managing director of industry body Decom North Sea said: "This is a step in the right direction and whilst the impact 'on the ground' will be limited in the short-term it's impact on confidence is notable.
"With 2021 expected to be another tough year companies need positive indicators to support investment decisions or even to hang on to resources (and the inherent capabilities, expertise and experience) that will be required in 2022-23 and beyond."