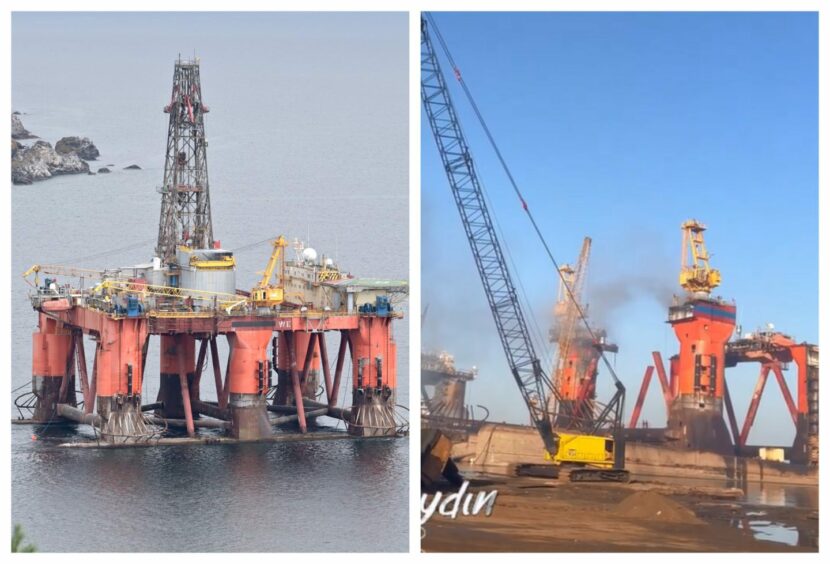 Workers appear to have caught a glimpse of a North Sea oil rig being broken up at a yard in Turkey.
The Ocean Vanguard was taken to the Aliaga shipbreaking site earlier this year after spending years in the Cromarty Firth in Scotland.
A Facebook page for former workers of the vessel have found footage of the old rig now being broken up.
A video was posted by Savaş Akan on Instagram, who frequently shares footage of vessels and ships being taken apart at the facility in Turkey.
Identifying the rig through its hull and cranes, a former worker claimed it was indeed the vessel in question.
The footage could not be independently verified.
Several former hands on the rig paid their respects, describing it as "such a shame" and others simply saying "rest in peace".
One user said: "And she is gone … aye that didn't take long , I wonder if they found my spare keys on top of the window curtain valance , I chucked them up there about 14 year ago…"
For years the vessel stood idle in the Cromarty Firth, and was subject to a SEPA-ordered investigation in 2018 when it emerged former owners were suspected to be taking it to an illegal shipbreaking beach.
SEPA blocked the vessel from leaving, until August this year when Rota shipping acquired the rig to be taken to  Aliaga – an EU-approved shipbreaking site on the coast of the Aegean Sea – for recycling.
The Ocean Vanguard, along with the Ocean Nomad and Ocean Princess, which were also blocked in the Cromarty Firth, are all formerly owned by Diamond Offshore Drilling.
They were sold in 2018 to GMS, a US-based firm which describes itself as the world's largest cash buyer of ships for recycling.
However SEPA blocked the three from leaving the Cromarty Firth amidst fears they would be headed to dangerous shipbreaking yards in South Asia.
GMS said in 2020 that it no longer owned the rigs, leaving questions on its future.
Rota Shipping, which took on all three vessels, deals in scrap tonnage and has been  active since 1986, according to its website.