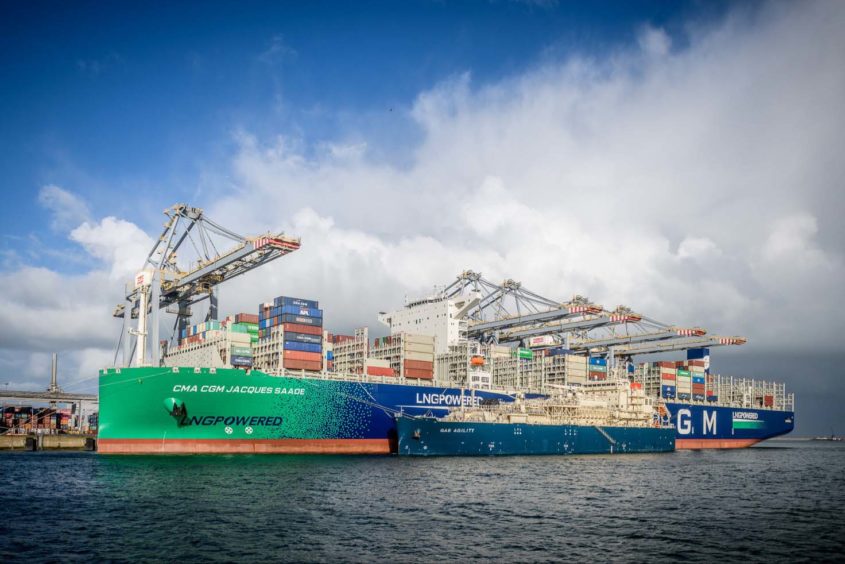 Total has carried out the largest LNG bunkering operation ever, at the Port of Rotterdam on November 13.
The French company said the CMA CGM Jacques Saadé, the world's largest containership running on LNG, had received around 17,000 cubic metres of LNG. The Gas Agility vessel carried out the ship-to-ship transfer. The containership was also carrying out cargo operations at the same time.
Refuelling took around 24 hours.
Total said it had further reduced carbon emissions of the LNG, as 13% of it came from biomethane. This was produced in the Schiphol area, primarily from organic municipal waste.
The work demonstrates Total and CMA CGM's determination to use LNG as a marine fuel. This cut sulphur oxide emissions by 99%, fine particles emissions by 99% and up to 85% of nitrogen oxide. LNG-powered vessels emit up to less than 20% of CO2 from conventional systems.
"We are really proud of this landmark achievement, which is the culmination of a three-year close collaboration between Total and CMA CGM," said Total's vice president marine fuels Jérôme Leprince-Ringuet.
"It also marks the shipping industry's first commercial use of biomethane on this scale. Such introduction reflects Total's ambition to get to Net Zero by 2050 and our commitment to help reduce the carbon intensity of the energy products used by our customers."
Transition plans
CMA CGM's executive vice president Christine Cabau said the success had come as the result of seven years of research and development. "This operation marks the structuring of a chain of excellence for LNG used as a fuel for maritime transport. It is a new step towards accelerating the energy transition in maritime transport and logistics," the executive said.
Total officially named the Gas Agility vessel at a ceremony in September. The ship is the world's largest LNG bunkering vessel, 135 metres long and including a Mark III membrane containment system from GTT.
Gas Agility stemmed from collaboration with Mitsui O.S.K. Lines (MOL) and Hudong-Zhonghua shipbuilding in Shanghai. The companies plan to supply another LNG bunkering vessel in 2021, which will be based at the Marseille-Fos area in France, supplying fuel in the Mediterranean.
MOL's Emerald Green Maritime owns the ship, which is chartered to Total Marine Fuels Global Solutions (TMFGS).
CMA CGM is making a major pivot to LNG. The company intends to have 26 containerships running on LNG by the end of 2022. CMA CGM is also planning to be carbon neutral by 2050.
Recommended for you

Australia CCS set for boost as gas players, including BP, eye major investments