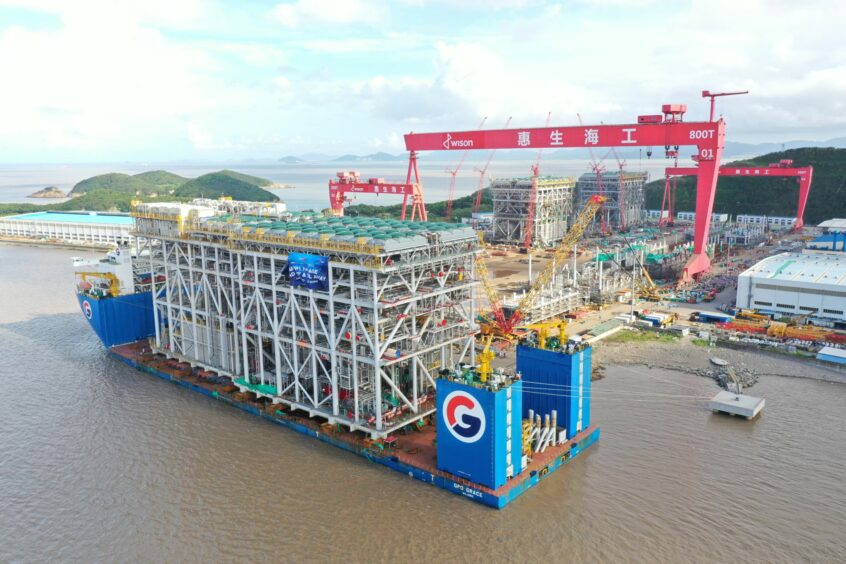 Wison Offshore & Marine has produced the first train module for the Arctic LNG 2 project, weighing nearly 50,000 tonnnes.
The company said it had built the module at its Zhoushan yard. Wison said it had taken "nearly 600 days" to carry out the construction. It reported 20 million man hours without lost time injury (LTI).
Norway's GPO Heavylift is handling the transportation of the module from the Chinese yard to Murmansk, in Russia. As of August 27, the GPO Grace vessel was just south of South Korea, in the South China Sea.
Arctic LNG 2 will have 19.8 million tonnes per year of capacity from three trains when it starts up. The first train is expected to come online in 2023, with subsequent capacity coming online in 2024 and 2025.
Novatek has a 60% stake in Arctic LNG 2, while TotalEnergies, CNOOC, CNPC and a Mitsui and JOGMEC venture have 10% each. The French company also has a 19.4% stake in Novatek, giving it further exposure to the LNG project.
Novatek awarded engineering, procurement and construction (EPC) work to TechnipFMC in July 2019. Technip then went on to award the contract to Wison
Follow on
Total E&P Russia's director Arnaud Le Foll, in a recent video, described Arctic LNG 2 as a "follow on" from the Yamal LNG project.
Unlike Yamal LNG, Arctic LNG 2 is based on a floating production concept. Each of the three trains will be installed on a concrete barge in Murmansk.
As these become ready, the operator will tow the barge to the Ob, a major river in Western Siberia, close to gas fields. It will then connect these facilities to the gas pipeline network.
Le Foll said there were opportunities to duplicate this concept at other fields on the Yamal and Gydan peninsulas. TotalEnergies plans to continue its co-operation with Russia's Novatek, taking a 10-15% stake in future LNG developments in Russia's Arctic.