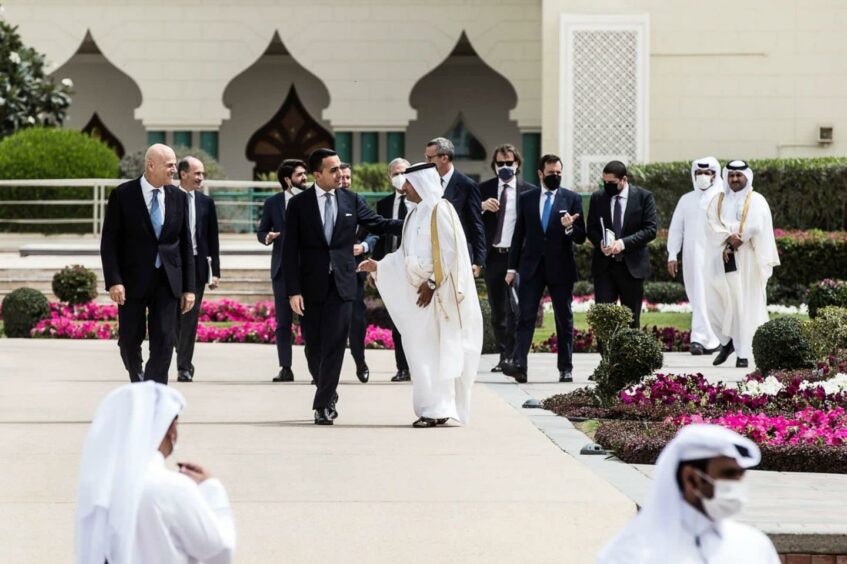 Italian Minister of Foreign Affairs Luigi di Maio has visited Angola and Congo Kinshasa in order to secure new sources of gas.
Italy imported 29 billion cubic metres of gas from Russia in 2021. Energy Transition Minister Roberto Cingolani, last week, said Italy would reduce this to zero within 30 months.
Di Maio has been on a tour of energy producers this month in order to drum up alternative supplies.
At the end of February he visited Algeria, with Eni CEO Claudio Descalzi. Di Maio held talks with Minister of Foreign Affairs Ramtane Lamamra and the Minister of Energy and Mines Mohamed Arkab.
The two went on to Qatar on March 5-6, holding talks with Emir Tamim Al-Thani, Prime Minister Khalid Al Thani, Foreign Minister Mohammed Al-Thani and the Minister of Energy Saad Al-Kaabi.
Di Maio, speaking in Qatar, said Russia's invasion of Ukraine has "also caused serious repercussions on the energy sector". As a result, it is "more urgent to accelerate the supply source diversification process: a necessary condition to assure Italy's stability and security".
Qatar provides more than half of Italy's existing LNG supplies.
West Africa
Speaking to Corriere della Sera, di Maio said Congo Kinshasa and Angola provided an "opportunity to recover the LNG quotas we need to diversify energy sources and bring prices down. I am optimistic, we are sure that it will go well and that we will add other shares to the very important ones of Qatar, Algeria and Libya."
On March 12-13 the minister went to West Africa, again accompanied by Descalzi. Following talks with Congolese President Denis Sassou Nguesso, di Maio said the two "countries will strengthen their energy partnership. After Algeria and Qatar, this is another important piece of news."
Leaving Congo Kinshasa, di Maio said "there's not a moment to lose" in securing alternative energy supplies.
"We will bring forward new projects to diversify energy supply," he said.
The minister also reported "good news" following talks in Angola, with the two countries strengthening their energy partnership.
Rethinking options
Italy's regasification capacity is currently limited. The minister expressed confidence that the country would be able to overcome these. By winter, he said, Italy would have a comprehensive energy security plan.
In order to secure new supplies, LNG import projects are being dusted off.
Eni is in the midst of new LNG export plans in Congo Kinshasa. New Fortress Energy will provide a floating LNG (FLNG) vessel, with capacity of 1.4 million tonnes per year.
Meanwhile, in Angola, Eni and BP are linking up their assets, which include the New Gas Consortium (NGC). This is due to begin producing gas for export in 2023.
The move will be positive for both companies. Welligence vice president for sub-Saharan Africa research David Thomson said the deal would "create a highly technically adept and financially strong company. They can leverage economies of scale."
BP had been looking to sell off its Angolan assets but was unable to find a buyer, he noted. "Therefore this is a good solution for it and the country as well. Azule will have an extensive portfolio, mostly producing but also under developed and yet to be developed so it has good optionality. Angola I think will give it the greenlight soon enough."
Furthermore, Eni is on the verge of acquiring major assets in BP from Algeria, Reuters has reported. BP will sell its stakes in In Salah and In Amenas to Eni for an undisclosed report, the news agency reported, citing people familiar with the deal.