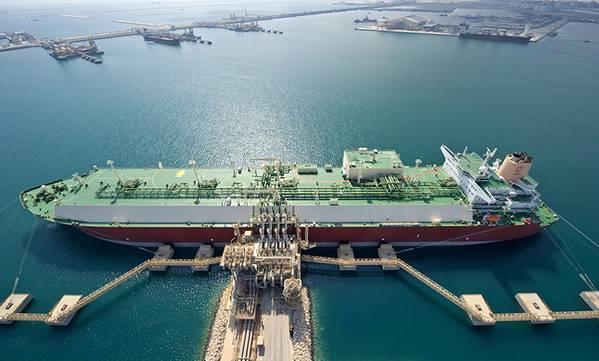 QatarEnergy (QE) has held talks with German officials in preparation to begin sending LNG to the northern European country.
German Minister for Economic Affairs and Climate Action Robert Habeck travelled to Doha on the weekend and reached a high-level agreement on gas supplies with Qatari Emir Sheikh Tamim bin Hamad Al Thani.
The next step will be for German companies to reach a supply and purchase agreement (SPA) with QE.
QE said it has been in talks with German companies for a "number of years" on supplying LNG. These did not move into definitive agreements because of a "lack of clarity on the long-term role of gas in Germany's energy mix and the requisite LNG import infrastructure".
This has changed following Russia's invasion of Ukraine and Germany's desire for independence from its top gas supplier.
QE president and CEO Saad Sherida Al-Kaabi, also the Minister of State for Energy Affairs, held talks with German Minister for Economic Affairs and Climate Action Robert Habeck on the weekend.
H.E. Minister Al-Kaabi meets Germany's Vice Chancellor and Minister of Economic Affairs and Climate Action#Qatar pic.twitter.com/3gkxAQNMTI

— QatarEnergy (@qatar_energy) March 20, 2022
The Qatari company confirmed that the German delegation gave assurances of new support for LNG imports. The German government "has taken swift and concrete actions to fast-track the development of two LNG receiving terminals", it said.
QE reported this was a "matter of priority" to allow LNG imports. This move has the "full support of the German government", the company said.
As a result, German companies will now begin talks on long-term LNG supplies from Qatar. Accompanying Habeck was RWE CEO Markus Krebber.
A statement from Germany on the talks with Qatar said the agreement "concerns both short-term deliveries to Europe and long-term shipments that are then to arrive in planned LNG terminals in Germany".
Brunsbüttel
Germany's state-backed KfW signed a memorandum of understanding (MoU) with Gasunie and RWE on February 28 on an LNG terminal. The deal restarts discussions around the Brunsbüttel regasification facility, with KfW set to hold a 50% stake on behalf of the government.
Brunsbüttel would have 8 billion cubic metres per year of regas capacity. Minister Habeck endorsed the plan to use gas during Germany's transition.
"An LNG terminal in Brunsbüttel will increase the possibilities to import gas to Germany. LNG terminals could be described as an extra bypass for this," he said.
There has been discussion of using the terminal to also import green hydrogen or ammonia. RWE, last week, set out plans to accelerate alternative energy imports with the construction of another terminal nearby the LNG facility. This additional project would allow RWE to import green ammonia, it said.
"On the one hand, we are involved in the forthcoming construction of the first LNG terminal in Germany. On the other hand, we are going to build an ammonia terminal at the site to forge ahead with the import of green molecules for the decarbonisation of industry," said Krebber.
The LNG facility at Brunsbüttel could be in operation by 2025. RWE may begin importing 300,000 tonnes per year of ammonia from 2026.
Germany is not the only country to be looking to expand links into Qatari LNG supplies. Italian Minister of Foreign Affairs Luigi di Maio visited Qatar this month, in addition to other gas suppliers, to talk new deals.
Updated at 11:39 am with German statement on short-term and long-term volumes.
Recommended for you

Germany lost to Japan…but still put its foot on the gas in Qatar