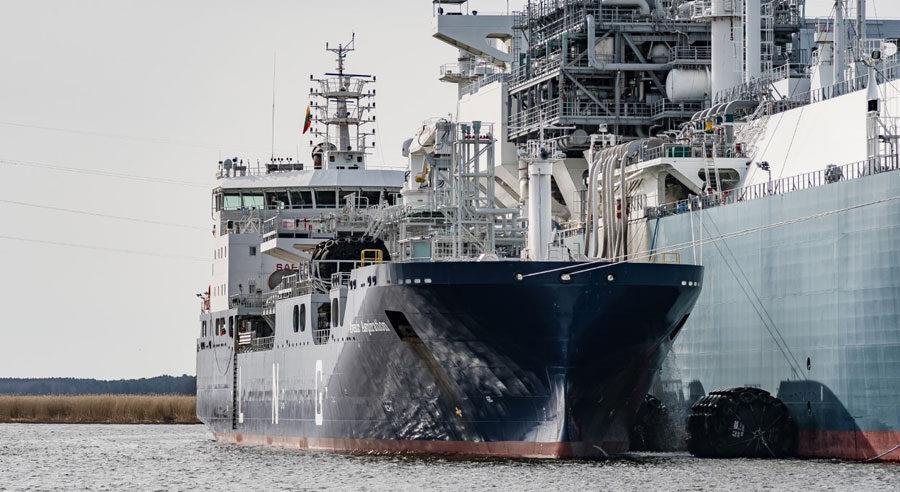 Avenir LNG has teamed up with Lithuania's Achema Gas Trade for a first LNG reloading at the Klaipeda terminal.
Lithuania announced, on April 2, that it was wholly independent from Russian gas supplies. The energy ministry said the Klaipeda LNG terminal would meet all Lithuanian gas demand.
Avenir's 7,500 cubic metre Avenir Aspiration vessel loaded gas at the Independence FSRU and delivered it to the LNG reloading station.
Poland's PGNiG bought the LNG. Avenir said it planned for the gas to be distributed by truck to industrial and logistics customers in the Baltics.
"We are happy to see the start of operations for our vessel in Northwest Europe and are looking forward to provide our services in a variety of countries and ports along the North and Baltic Sea coast," said Avenir CEO Peter Mackey.
Offgrid demand
Klaipėdos Nafta (KN) operates the FSRU and the reloading station. Company COO Mindaugas Navikas said the reloading plant was intended to "supply Baltic and Poland offgrid consumers and LNG fuel stations with energy resources.
"We believe that Avenir LNG, a growing leader in the integrated small-scale LNG distribution market, which has implemented its first small-scale LNG operation in Klaipėda, will together contribute to the common goal of creating value in the growing small-scale regional LNG market."
Lithuania expects to meet its own gas needs through the delivery of three LNG cargoes per month. However, it has also said it could receive gas via a link from Latvia.
Furthermore, the Gas Interconnection Poland-Lithuania (GIPL) is due to start up on May 1. This will allow Poland to send gas to Lithuania.
Minister of Energy Dainius Kreivys said ending Russian supplies was a turning point. "We are the first EU country among Gazprom's supply countries to gain independence from Russian gas supplies, and this is the result of a multi-year coherent energy policy and timely infrastructure decisions."
From this month on – no more Russian gas in Lithuania 🇱🇹.

Years ago my country made decisions that today allow us with no pain to break energy ties with the agressor.

If we can do it, the rest of Europe 🇪🇺 can do it too!

— Gitanas Nausėda (@GitanasNauseda) April 2, 2022
Lithuania will continue allowing Russia to deliver gas to its Kaliningrad exclave.
Baltic bustle
The other two Baltic states, Latvia and Estonia, share the anti-Russian sentiment. Latvian Minister of Economics Jānis Vitenbergs, talking today, said the country had made a "clear decision" to abandon Russian gas imports.
Vitenbergs said US LNG was a "promising alternative". The minister called for LNG companies to consider supply and called for co-operation on the construction of an LNG terminal.
Estonia also raised the possibility of building an LNG terminal in late March.
Lithuania holds its FSRU under a lease, for now. However, KN has opted to buy the vessel, ensuring it will stay in Lithuania beyond 2024.
KN CEO Darius Šilenskis said the company's analysis showed the facility saved consumers 140-150 million euros ($153-164mn) per year. As of mid-March, shippers have taken all available capacity at the FSRU for the year.
There is some discussion about expanding the FSRU's capacity. This would involve an expansion from the current 3.75 billion cubic metres to 5 bcm.
Recommended for you

In Scholz's UAE lighthouse talks, RWE scores a first LNG cargo