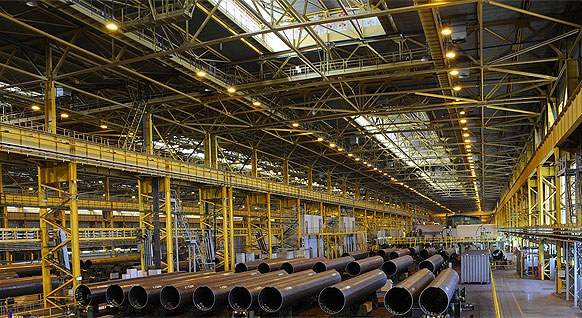 Russia will remain the heart of Severstal's focus for the near term, but uncertainty around the timing of a contract with Gazprom has encouraged international growth.
Severstal's Izhora pipe mill won a contract in July to supply Gazprom with 320,000 tonnes of large-diameter pipelines during 2021-22.
A slowdown in Russia in 2019-20 drove Severstal to consider new horizons. "In 2019, we started intensively searching for opportunities internationally," said the company's business development manager for energy Dmitry Goroshkov.
Taking into account the contracts awarded, Severstal expects to fully utilise its equipment in 2021. "How much will Gazprom want in 2021? The aim for international markets is to be able to balance out the domestic market with the international."
"Before 2019, demand for large-diameter pipelines in Russia was very significant and we enjoyed 100% capacity utilisation," he continued. Gazprom was the company's major client. The state-controlled gas company changed its investment plans, Goroshkov said, triggering Severstal's decision to expand internationally.
Severstal has three key advantages over other pipeline manufacturers, he said. The company is vertically integrated, it is wholly responsible for customer satisfaction and it is working to develop new products to meet emerging needs.
The pipeline manufacturer hopes that there will be a recovery in the Russian market in 2021. Gazprom has a number of significant projects, including the continuation of the Power of Siberia, Goroshkov said, also noting Rosneft's Vostok Oil work.
Far abroad
Beyond Russia, Europe offers some "good opportunity to grow starting from a low base for Severstal", the executive said. There is interest around cross-border gas interconnectors, in addition to modernisation and repairs.
The Middle East offers much more scope. Goroshkov noted there had been a drop in demand in 2020 but that this was primarily a case of delays for two or three years, rather than cancellations. "We've used [2020] to build up our agent network and go through customer qualifications. With our unique technical capabilities, Severstal will be the right choice for many projects that will start in the next few years."
The executive was confident that Severstal's ability to provide large-diameter pipelines would continue to give it a competitive edge. The company has begun looking at the use of non-metallic materials, an emerging trend in the Middle East. Demand in this area is focused at the moment on small and middle diameter pipelines, Goroshkov said.