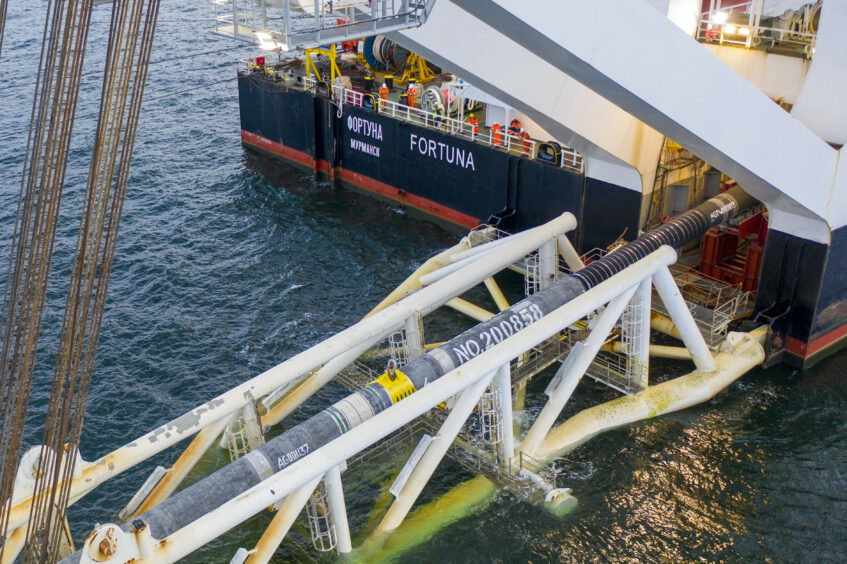 Gazprom has confirmed that it has completed construction of the Nord Stream 2 gas pipeline, while also moving ahead with plans for a new LNG plant.
Company chairman Alexey Miller said work on the pipeline had been completed this morning, at 8:45 am Moscow time.
Nord Stream reported the final pipe had been welded on September 6. The Fortuna barge had carried out the work. It then lowered this into German waters. The next step is to connect the pipe at the German shore to the section from Danish waters, the company said.
It set out the expectation that the pipeline would go into operation before the end of the year. Pipelaying began in September 2018.
Each of the Nord Stream pipelines is able to carry 55 billion cubic metres per year of gas, giving the combined total of 110 bcm per year.
Russian President Vladimir Putin, speaking in June, said Gazprom was ready to fill the link with gas. The pipeline will "ensure energy security and reliable gas supplies for the Europeans, like Nord Stream 1. I must add that this project is profitable economically and fully conforms to the most stringent environmental and technical requirements."
Further export plans
Gazprom has signed an engineering, procurement and construction (EPC) for a new LNG plant near Ust-Luga with Linde and Renaissance Heavy Industries.
Gazprom signed the deal via RusKhimAlyans, its joint venture with RusGazDobycha. The companies agreed the deal at the St Petersburg International Economic Forum in June of this year.
Linde and Renaissance will handle design and supply of equipment, in addition to construction and installation at the facility. The plant will have two trains, with 13 million tonnes per year of total capacity.
RusKhimAlyans is working on a gas-processing complex near Ust-Luga. Gazprom has said this will be the largest in the world in terms of gas processing capacity, at 45 billion cubic metres per year of gas. It will provide 18 bcm of processed gas into Gazprom's transmission system.
It will also have ethane processing capacity and produce up to 3mn tpy of polymers.
Ethane-rich gas will initially come from the Nadym-Pur-Taz region, in Yamal-Nenets. In future, it will come from Tambeyskoye, a field on the Yamal peninsula.
Gazprom is adding new strings to its bow. The company announced the signing this month of a plan to produce blue hydrogen in the Sakhalin region, in Russia's east.
Rosatom agreed to consider options for building the plant, while Gazprom would supply the feedstock.
Recommended for you

Denmark asks Nord Stream 2 to help identify object near blast