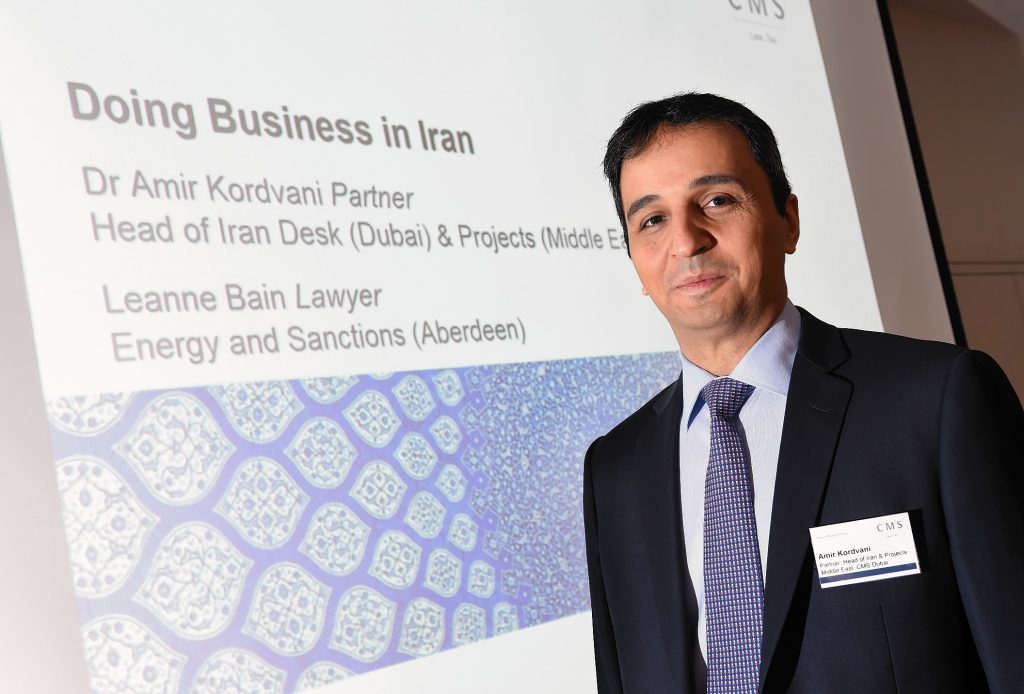 Iran is growing frustrated that the easing of EU sanctions earlier this year has not brought more benefits, a lawyer said yesterday.
The move on sanctions was agreed after Tehran agreed to stop developing nuclear weapons.
It was viewed as a huge chance for energy companies to expand into an oil-rich state that needs new technology and infrastructure following years of isolation.
The country is taking steps to tackle corruption and make exploration and production more attractive to western companies with a new licensing system.
But the floodgates have not opened. Frank Fowlie, partner at CMS, said Aberdeen oil and gas companies are keen to work in Iran, but that clients are yet to convert their interest into action.
Part of the problem is that companies are still trying to work out how much freedom the new sanctions regime gives them.
EU sanctions still apply to certain groups in Iran, including the Iran Revolutionary Guards Corps, a military organisation with commercial activities.
A lack of transparency in Iran means it is impossible to be sure whether a potential business partner has commercial links to an organisation that is subject to sanctions.
Also, US companies and citizens still cannot do business with Iran, so EU firms with American financial backing could face problems if they try to trade there.
Even with sanctions lifted, the US office of foreign assets control (OFAC) has advised against visits to Iran, a move which has "not gone down well" in Tehran, said Amir Kordvani, also partner at CMS.
Furthermore, Western banks are still not prepared to process Iran-related payments despite the reinstatement of the Swift international transfer system, said Mr Kordvani, who heads up CMS's Iran desk.
"That is causing uproar in Iran. People are frustrated, the government is frustrated, and that can create problems," he said.
But there are reasons for optimism. Mr Kordvani said Iranian banks are trying to clean up their act, with many hiring compliance officers to make sure they meet internationally accepted corporate standards.
"By the end of this year I think we will see a major EU bank sign a decent financing deal with Iran," Mr Kordvani told the audience at CMS's Doing Business with Iran seminar at the Chester Hotel in Aberdeen.
Mr Kordvani also said it was relatively simple to set up a branch in Iran, which is a requirement for companies who wish to export goods and services to the country.
Tehran is also working on the Iran Petroleum Contract (IPC). Although it has not yet been finalised, the IPC is expected to have a development term of at least 20 years, making it easier for companies to recover all of their costs.
Under the current "buy back" system, contracts run for just eight years.
Mr Kordvani said Iran's primary objective was the development of joint fields – those which stretch across the borders between Iran and neighbouring countries.
Therein lies the opportunity for oil companies.
"If companies can help Iran do develop those fields and can take on risks, they will be given priority and will have a strong negotiating position," Mr Kordvani said.
"Iran also wants the latest and best technology so if you can offer that you will be in an excellent position."
Recommended for you

Iran insists on crude oil exports as Vienna nuclear talks resume