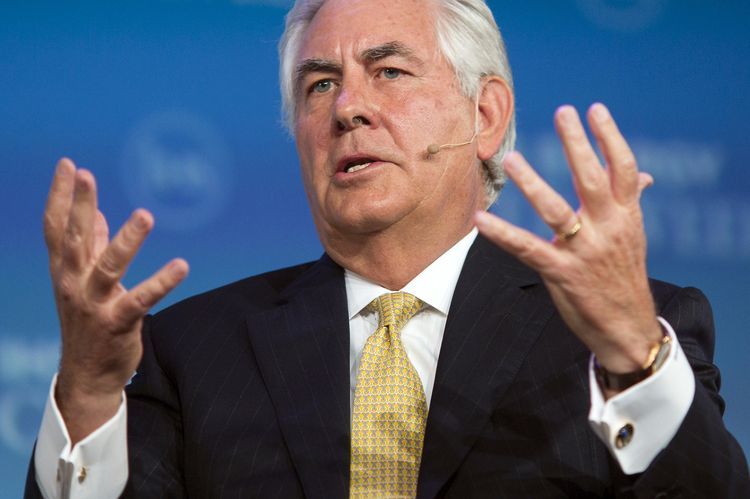 US Secretary of State Rex Tillerson is visiting Qatar on a mission to break the deadlock between the tiny, energy-rich Gulf nation and four Arab neighbours.
It is Mr Tillerson's second stop on a shuttle-diplomacy circuit that is also expected to take him to Saudi Arabia, which shares Qatar's only land border and is the most powerful of the four countries lined up against it.
He met with Qatar's 37-year-old emir Sheikh Tamim bin Hamad Al-Thani upon arrival in sweltering Doha.
The pair was joined by Qatar's foreign minister as well as the emir's brother, Sheikh Mohammed bin Hamad Al Thani, a key point person for the United States on counter-terrorism issues.
Qatar was the second Gulf stop for Mr Tillerson, a former oilman with years of experience in the region, who met with Kuwait's ruler Sheikh Sabah Al Ahmed Al Sabah on Monday.
The Kuwaiti leader has been acting as a mediator between Qatar and the quartet of Saudi Arabia, Bahrain, the United Arab Emirates and Egypt.
The four nations broke off relations with Qatar and cut air, sea and land routes with it in early June and have accused Qatar of supporting extremist groups.
They later issued a 13-point list of demands to restore relations and gave Doha 10 days to comply.
The demands include Qatar shutting down news outlets, including the media network Al-Jazeera, cutting ties with Islamist groups such as the Muslim Brotherhood, limiting ties with Iran and expelling Turkish troops stationed in the country.
Qatar strenuously denies supporting extremist groups and has rejected the demands, saying that agreeing to them wholesale would undermine its sovereignty.
Mr Tillerson's arrival in the Gulf coincided with the release by CNN on Monday of allegedly leaked agreements between Qatar and its neighbours dating from 2013 and 2014.
They include a handwritten 2013 deal between the leaders of Saudi Arabia, Kuwait and Qatar to not interfere directly or indirectly in the internal affairs of fellow members of the six-nation Gulf Co-operation Council (GCC), which also includes Bahrain, Oman and the UAE.
That agreement specifically ruled out support for the Muslim Brotherhood and other unnamed groups that could threaten the bloc's members.
Qatar sees the Brotherhood as a legitimate political force and has for years hosted its spiritual guide, Sheikh Youssef al-Qaradawi.
That puts it squarely at odds with Saudi Arabia, the UAE and Egypt, which see it as a threat and label it as a terrorist organisation.
The four anti-Qatar countries lent credibility to the authenticity of the leaked agreements in a statement issued early on Tuesday.
The network said it received the documents from a source in the region.
They asserted that the documents "confirm beyond any doubt Qatar's failure to meet its commitments and its full violation of its pledges".
Their 13-point list of demands in June was tied to those earlier deals and was "fully in line with the spirit of what was agreed upon", they said.
The head of Qatar's government communication office, Sheikh Saif bin Ahmed Al Thani, disputed that, saying the June demands "bore no relation to the Riyadh agreements", according to a statement carried by the official Qatar News Agency.
He called the "siege" by the four states a violation of the GCC charter.
US officials have said Mr Tillerson does not expect an immediate breakthrough in the dispute and cautioned that a resolution could take months.
A senior adviser to Mr Tillerson, RC Hammond, has said the demands on Qatar were not viable but that there were individual items on the list "that could work". He did not elaborate.
Qatar is not new territory for Mr Tillerson.
Before being tapped to be President Donald Trump's top diplomat, he served for years as chief executive of Exxon Mobil.
The Irving, Texas-based oil giant is one of the most dominant players in OPEC member Qatar's energy industry, and played a major role in turning it into the world's largest producer of liquefied natural gas.
Recommended for you
X

Bourbon joins worlds first Hronn autonomous vessel project