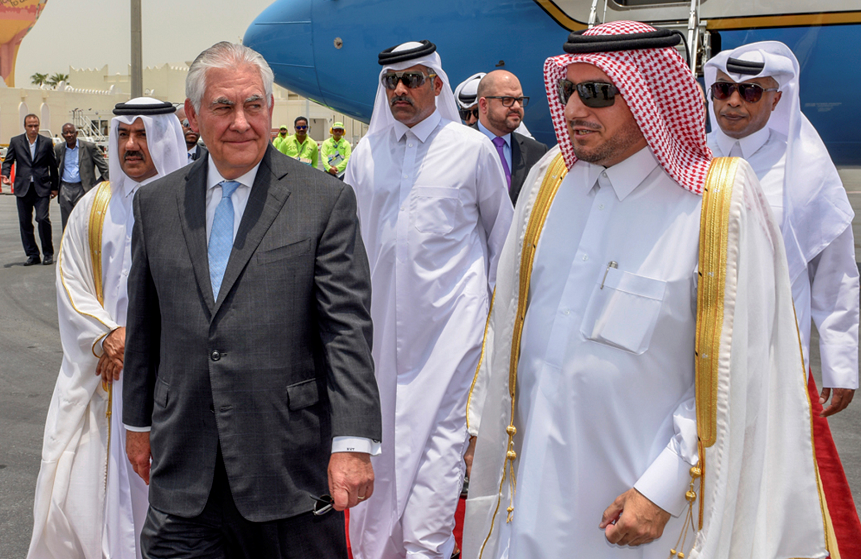 US Secretary of State Rex Tillerson has secured a commitment from Qatar to intensify its counter-terrorism efforts as he looks to end the squabbling among key Middle Eastern allies.
Qatar was Mr Tillerson's second stop on a shuttle-diplomacy circuit that will also take him to Saudi Arabia, which shares Qatar's only land border and is the most powerful of the four countries lined up against it.
Describing himself as a "friend to the region", he expressed hope for progress in ending the stand-off in brief remarks following a meeting with 37-year-old Emir Tamim bin Hamad Al Thani in the sweltering Qatari capital Doha.
The two countries signed a memorandum of understanding during his visit which senior Tillerson adviser RC Hammond described as "outlining future efforts Qatar can take to fortify its fight against terrorism and actively address terrorism funding issues."
That agreement addresses one of the core allegations made against Qatar by the quartet, which has accused Doha of supporting extremists.
Qatar denies the charge.
Mr Tillerson also gave besieged Qatar some political backing ahead of talks with officials from the Arab quartet in Saudi Arabia on Wednesday.
He said: "I think Qatar has been quite clear in its positions and I think very reasonable."
Mr Tillerson, a former oilman with years of experience in the oil-rich region, began his Gulf visit Monday by meeting Kuwait's ruler Sheikh Sabah Al Ahmed Al Sabah.
The Kuwaiti leader has been acting as a mediator between Qatar and the quartet of Saudi Arabia, Bahrain, the United Arab Emirates and Egypt.
The four nations broke off relations with Qatar and cut air, sea and land routes with it in early June.
They later issued a 13-point list of demands to restore relations and gave Doha 10 days to comply.
The demands include Qatar shutting down news outlets, including the media network Al-Jazeera, cutting ties with Islamist groups such as the Muslim Brotherhood, limiting ties with Iran and expelling Turkish troops stationed in the country.
Qatar strenuously denies supporting extremist groups and has rejected the demands, saying that agreeing to them wholesale would undermine its sovereignty.
It does, however, at least indirectly support Islamist groups labelled as terrorist organisations, such as the Palestinian militant group Hamas.
Qatar has hosted senior Hamas officials on its soil and is the largest financial patron to the Hamas-ruled Gaza Strip.
It argues its aid is for the Palestinian people rather than Hamas.
Qatari envoy Mohammed al-Amadi signed a new agreement with a Palestinian contractor to build eight residential buildings in Gaza on Tuesday.
He said his country would continue to support development projects in the seaside territory, which Hamas seized from forces loyal to Palestinian President Mahmoud Abbas in 2007.