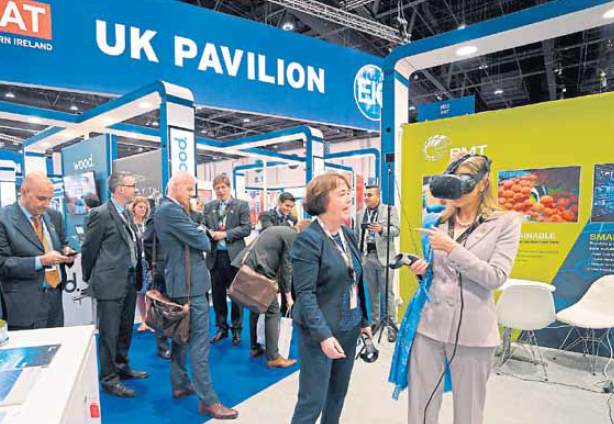 Each year, the Abu Dhabi International Petroleum Exhibition and Conference (Adipec) provides an important platform for the oil and gas industry to do business and exchange information, and is set to welcome more than 145,000 visitors, including energy ministers, chief executives, decision-makers and professionals with real buying power.
This year the Energy Industries Council (EIC) will be managing the largest ever UK delegation to Adipec – the Scottish Pavilion in Hall 1, UK Pavilion and Welsh Pavilion in Hall 8, an extended UK Pavilion in Hall 13, and, new for 2019, the UK Digitalisation Pavilion in the dedicated digital zone in Hall 14.
As one of the world's most important oil and gas events, Adipec is the perfect opportunity for UK companies to showcase their expertise and digital capabilities, and consolidate strategic partnerships across the Middle East.
Alongside the exhibition, the conference programme will explore the nexus of technology and energy, including the links between digital transformation, people and partnerships, that are enabling change and creating the basis to build the oil and gas companies of the future.
Oil and Gas 4.0, a new agenda developed by both Adnoc and Adipec to navigate and embrace the opportunities enabled by the fourth industrial revolution, will be embedded in the conference programmes.
To support faster, leaner exploration and production and optimisation of costs, companies have accelerated research and development on technologies, as the digital revolution gathers pace in the region.
According to management consultant McKinsey, digital technologies such as cloud, the internet of things, mobility, artificial intelligence, virtual reality, big data and analytics could cut capital expenditure by up to 20%. At the same time, it forecasts that total cash flows will improve by $11 per barrel across the offshore oil and gas value chain.
With several recent high-value contract awards, the Middle East continues to be a key area of focus for the UK's energy supply chain – the region's trusted and proven partner. If you are at Adipec, please take the time to visit as many of the UK exhibitors as possible and find out how they can add real value to your projects and programmes.
Lucy Chakaodza is editor and media manager, Energy Industries Council