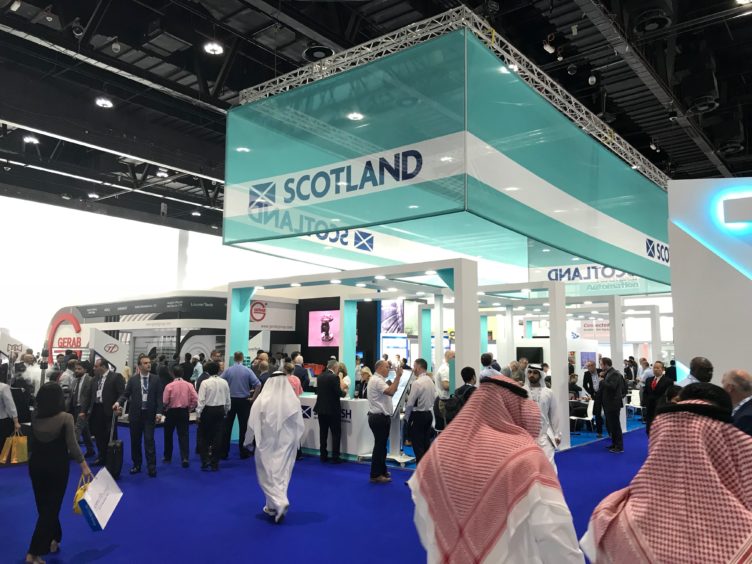 From November 11-14, the eyes of the global energy industry will be firmly fixed on the Abu Dhabi International Petroleum Exhibition & Conference (Adipec).
More than 10,000 energy professionals from 129 countries will descend on the United Arab
Emirates (UAE) to negotiate deals, share best industry practice and network.
Amongst the attendees will be a delegation from Scotland led by Scottish Development International (SDI). It will be highlighting the opportunities that continue to exist in the North Sea, promoting the world-class companies based in our country and explaining how Scotland is leading the way to address the global climate emergency all of us are facing.
Adipec is a crucial part of Scotland's global development plan for the energy sector and our energy transition to a net zero future. For more than a decade, SDI has been attending Adipec to ensure Scotland – and its companies – can engage directly with key decision makers. These range from some of the largest national oil companies, international oil companies, and engineering, procurement and construction contractors from across the Middle East and North Africa.
We will have 45 companies exhibiting as part of SDI's Scotland Pavilion in Hall 1, stand 1210. The Scotland pavilion enables companies to engage with VIP visitors and host "meet the buyer" sessions, as well as providing a platform for showcasing their products and services.
Additionally, we have a large number of Scottish companies exhibiting as part of the UK pavilion, Digitalisation Zone and on their own stands.
What we're really excited about is that 40% of our delegation is visiting Adipec for the first time. Not only does this demonstrate SDI's commitment to engaging with new audiences, it also highlights the willingness of our companies to engage with overseas markets.
Scotland needs more exporters and a key priority for SDI is to provide technical advice and practical support to allow businesses to reach their global potential.
And the UAE remains a good place for Scottish firms to do business. The UAE is Scotland's 15th largest export market, worth £645m in 2017. However, the UAE is in the top 10 export markets for Scotland in some specific sectors, including drink, machinery and equipment and oil and gas services.
Although Scotland remains at the forefront of the worldwide energy industry, we recognise that the sector continues to evolve and address borderless, existential problems such as climate change.
Scottish First Minister Nicola Sturgeon has declared a Global Climate Emergency and as part of the Programme for Government published in September, and she has confirmed that Scottish Government support for energy exploration and production in the North Sea is based on a sustainable, secure and inclusive energy transition.
The first minister also announced that the Scottish Government would work with the Oil and Gas Technology Centre to establish a Net Zero Solution Centre to help develop renewable technologies that can be integrated with our existing energy infrastructure.
The centre supports the sector's ambition to become the first net zero hydrocarbon basin in the world, a key element of a sustainable, secure and inclusive energy transition.
Scottish Enterprise already works with many energy supply chain companies to increasingly diversify into the low carbon and renewable energy sector, providing the skills and expertise to drive the nation's transition to a net-zero emissions economy.
Furthermore, we're pleased that the organisers of Adipec recognise the importance of this issue by hosting plenary events on the energy transition and minimising the industry's environmental footprint.
As the energy industry enters the next stage of its evolution, Scotland has the opportunity to remain a world leader. We are leading the way with our commitment to achieving net zero greenhouse gas emissions by 2045 at the latest. My colleagues and I look forward to delivering both of these messages at Adipec.
Ivan McKee MSP is Scottish Government minister for trade investment and innovation
Recommended for you

Humza Yousaf: Floating solar power has 'significant potential' for Scotland