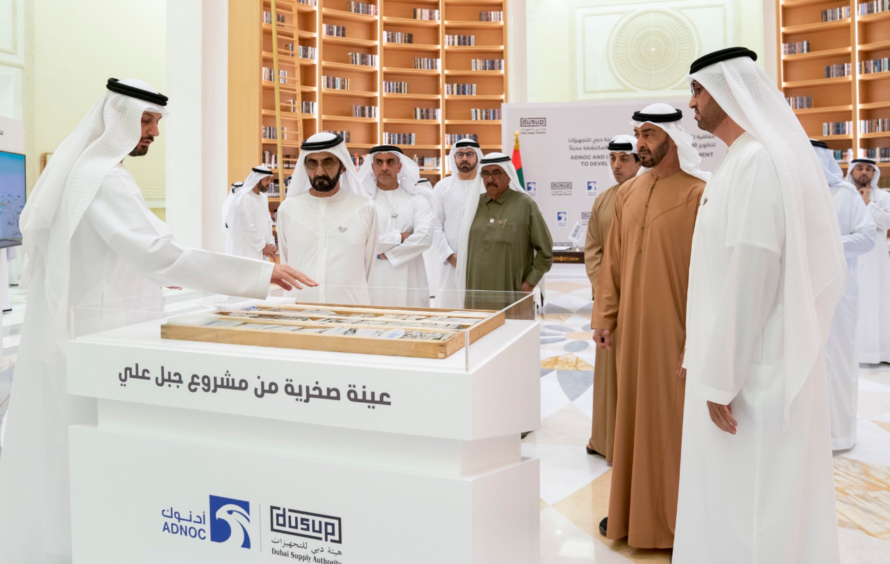 Abu Dhabi National Oil Co. (ADNOC) and the Dubai Supply Authority (DUSUP) have signed an agreement to develop the Jebel Ali project, a shallow gas find.
The field holds a reserve of 80 trillion cubic feet (2.27 trillion cubic metres), Dubai's ruler Sheikh Mohammed bin Rashid Al Maktoum said in a statement on Twitter. The sheikh said the agreement had been signed in a ceremony involving the head of the United Arab Emirates Sheikh Mohammed bin Zayed Al Nahyan, sometimes known as MBZ.
There have been 10 wells drilled on the field, which lies on the border between Abu Dhabi and Dubai. The work is part of the plan for self sufficiency in the UAE, with a particular focus on meeting the economic and population growth in Dubai, which is driving energy demand.
The announcement today moves the discovery forward to development, with first signs – of high quality gas at shallow depths – being encouraging. ADNOC will oversee the exploration and development work on the project, the company said.
Abu Dhabi struck a 15-year gas supply agreement with Dubai in 2018, following a first deal reached in 1998. Gas supplies from ADNOC began flowing to Dubai in 2001, via the Taweelah-Jebel Ali pipeline.
ADNOC has plans to develop a range of gas resources, including tight and unconventional supplies.
Recommended for you

Adnoc boosts capacity growth plans, sets out new unit IPO