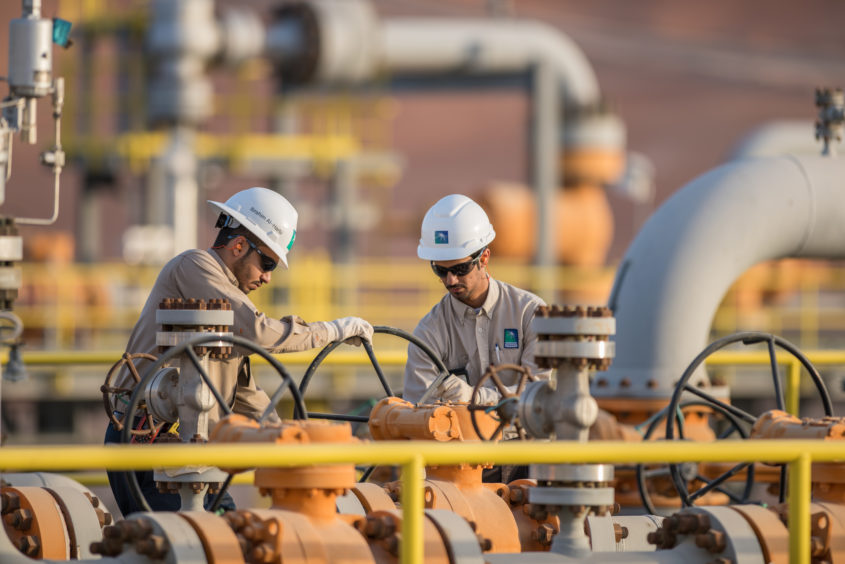 Saudi Aramco has sent 40 tonnes of blue ammonia to Japan, for use in zero-carbon power generation.
The delivery came in support from the Institute of Energy Economics Japan (IEEJ) and Sabic.
Ammonia consists of three parts hydrogen and one part nitrogen. Hydrocarbons produce hydrogen, while carbon capture reduces emissions to zero.
The Saudi company said it had captured 30 tonnes of CO2 in a process used for methanol production at Sabic's Ibn-Sina facility. Another 20 tonnes of CO2 were captured for use in enhanced oil recovery (EOR) at Aramco's Uthmaniyah field.
Aramco's chief technology officer Ahmad Al-Khowaiter said this "world's first demonstration represents an exciting opportunity for Aramco to showcase the potential of hydrocarbons as a reliable and affordable source of low-carbon hydrogen and ammonia".
He went on to note the importance of the multi-industry partnership between Saudi and Japan.
Growth plans
IEEJ's chairman and CEO Toyoda Masakazu said 30 million tonnes of blue ammonia would produce 10% of Japan's power. "We can start with co-firing blue ammonia in existing power stations, eventually transitioning to single firing with 100% blue ammonia.
"There are nations such as Japan which cannot necessarily utilise carbon capture and storage (CCS) or EOR due to their geological conditions. The carbon neutral blue ammonia/hydrogen will help overcome this regional disadvantage."
Sabic and Mitsubishi are handling transport logistics. JGC Corp., Mitsubishi Heavy Industries Engineering, Mitsubishi Shipbuilding Co. and UBE Industries are providing support.
Saudi and Japan held a workshop on CCS and hydrogen in September 2017. As a result, the IEEJ said it would carry out a feasibility study on carbon-free hydrogen and ammonia.
Japan went on to launch its hydrogen basic strategy at the end of that year. This called for commercial-scale use of hydrogen by 2025. CO2-free ammonia from renewable sources is expected to be commercially useable in the 2030s.
"While in this case, the ammonia shipped is blue, it lays the foundation for future cargoes of green ammonia, which will be produced by a hydrogen project at the NEOM smart city on the Kingdom's Red Sea Coast," said IGM Energy's principal advisor Ian Simm.
"When it comes onstream in 2025, the $5bn venture between NEOM, Air Products and ACWA Power will become the world's largest hydrogen project, utilising more than 4 GW of renewable power from solar and wind to generate hydrogen which will produce 1.2mn tonnes per year of green ammonia through catalysis."
Updated at 2:43 pm with comment from IGM's Simm. 
Recommended for you

Petronas strengthens collaboration with Japan on carbon neutral targets