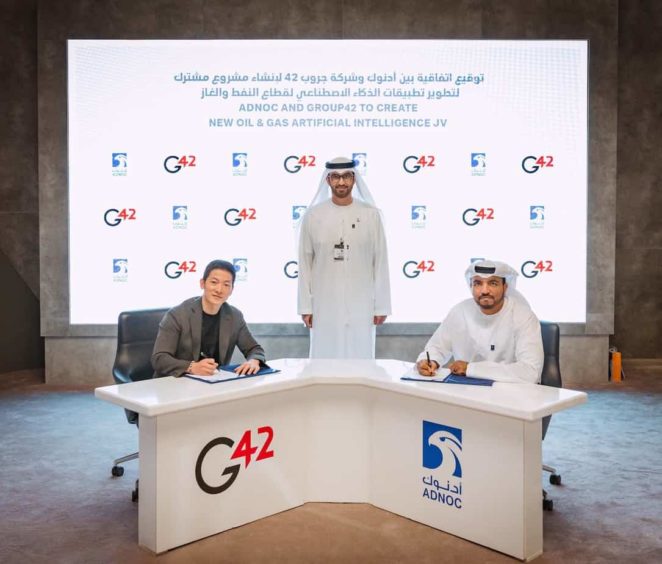 Adnoc has launched an artificial intelligence (AI) joint venture with Abu Dhabi's Group 42.
"Through this new joint venture, we are able to accelerate the development of new AI solutions to optimise processes, improve planning and increase profitability for Adnoc and the wider oil and gas industry. This partnership model allows Adnoc to develop AI solutions and applications in a cost-efficient way and strengthens Abu Dhabi's and our nation's position as a global hub for AI and technology driven industrial growth," said Adnoc's group CEO Sultan Al Jaber, Minister of Industry and Advanced Technology.
The companies signed an agreement setting out the plan in November 2019, at the Adipec conference. Adnoc will hold a 60% stake in the venture, AIQ, while G42 will hold the remaining 40%.
The joint venture will focus on bringing AI products to bear on the oil and gas industry. G42 brings expertise in modelling, supercomputing and its own team of data scientists. Adnoc has the energy industry knowledge and "vast amounts" of data.
Two of the AIQ board will come from G42, Peng Xiao and Mansoor Ibrahim AlMansoori. The remaining three come from Adnoc: Abdulmunim Saif Al Kindy, Ahmed Al Kuttab and Alan Nelson.
The latter is Adnoc's chief technology officer. Nelson said teaming up with G42 "enables us to accelerate Adnoc's adoption of advanced technologies and further digitalise our value chain to enhance efficiencies, performance and agility".
Adnoc is working on a number of computing initiatives. These include its Panorama program and a blockchain project.
Spreading its wings
Following diplomatic initiatives between the UAE and Israel, G42 announced plans to set up an office in Israel. This will focus on healthcare, although the company also noted interest in renewable energy research.
The AI company set up a COVID-19 testing laboratory in the UAE in 14 days and has gone on to be involved in local efforts for a vaccine.
G42 acquired a geospatial data provider, Bayanat, in January.
Recommended for you

ADNOC Drilling lands $2bn contracts for Ghasha 'mega-project'