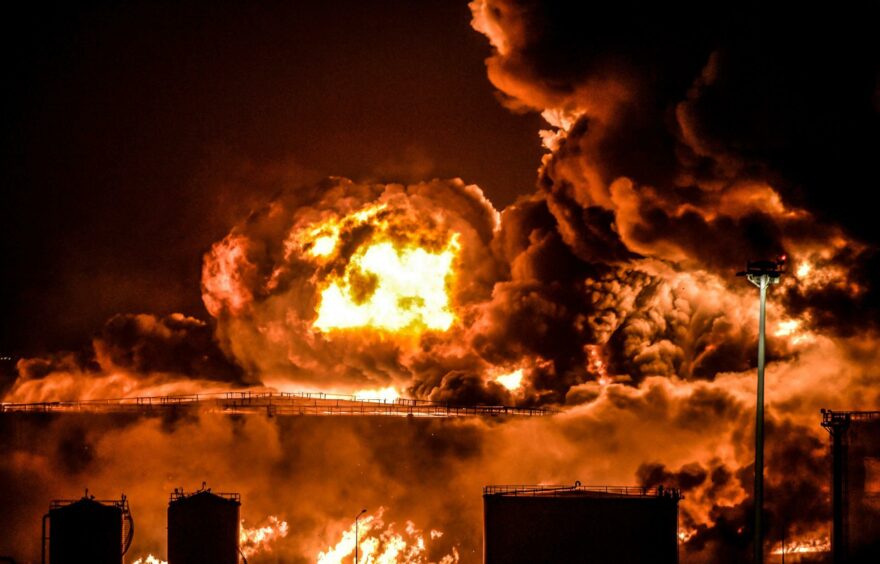 The Middle East and North Africa region is at "growing risk" of oil supply disruption, a new analysis from Verisk Maplecroft has reported.
Top of the list is Saudi Arabia. The risks of drone and missile threats to oil facilities in the kingdom has "only worsened" since the 2019 attacks on Abqaiq and Khurais.
"Not only has Iran expanded and improved its missile and drone capabilities, but Iran-backed groups throughout the region have also strengthened in parallel," principal MENA analyst Torbjorn Soltvedt wrote.
Co-ordinated attacks on Saudi last week involved rocket and drone strikes on oil facilities in Jeddah and Riyadh. The attack in Jeddah came as the city prepared to host a Formula 1 race.
Second on the Verisk Maplecroft list is the United Arab Emirates. A Houthi drone attack on oil facilities around Abu Dhabi in January demonstrated similar risks.
The number of attacks are lower in the UAE than in Saudi, but "the threat level has risen markedly" in 2022.
Iraq and Iran took the third and fourth spots on the MENA supply disruption list.
Corruption and the risk of civil unrest in Iraq raise concerns about damage to export links. Furthermore, a court ruling in February seemed to open the question of legitimacy over Kurdistan exports – potentially endangering around 400,000 barrels per day.
Iran is "less obvious", the report said. However, protests in 2019 and 2021 have raised the possibility of disruption. There is a continued risk of "sporadic industrial action" Soltvedt said.
Libya
Last on the list is Libya. Sharara shut down for three days in March, with analyst Hamish Kinnear reporting this appeared to be the 23rd time the field has shut down since 2011.
The Libyan National Army (LNA) previously imposed an embargo on exports from the country. The risk of another full blockade is "remote", Kinnear said, given the power struggle in Tripoli between rival prime ministers.
However, should a political group manage to cut off oil money flows to the LNA another blockade, removing up to 800,000 bpd, "would be on the cards".
Driving security considerations in the near term will be progress of nuclear talks between the US and Iran. An agreement would reduce the risks to Saudi and the UAE. The opposite would probably involve more attacks against ships and infrastructure around the Gulf.
Maritime risks
Dryad Global raised concerns about increased maritime insecurity this week. The security consultancy noted the "shadow war" between Iran and Israel, with both sides appearing to conduct covert attacks against affiliated ships. Iran carried out five such attacks, and Israel two, Dryad said.
Furthermore, in the lower Red Sea and Gulf of Aden, "state-based, and state-backed threats are increasingly setting the security agenda". This refers to attacks carried out by Houthi rebels against Saudi shipping interests, including the use of mines, explosives and missiles.