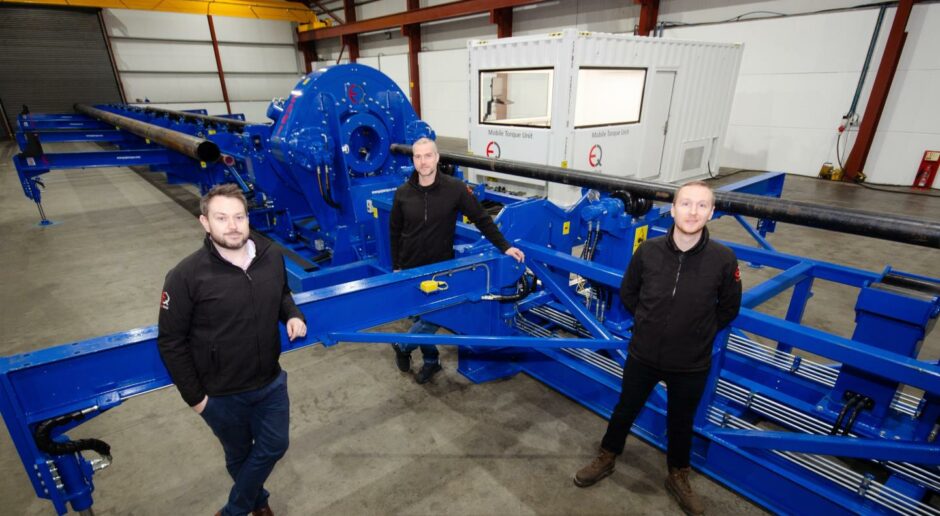 EnerQuip has celebrated the opening of its first sales and service centre in the Middle East with the announcement of a record $2.5 million contract award for delivery to Abu Dhabi in 2023.
The Aberdeen-headquartered torque machine specialist has recently opened its first premises in Abu Dhabi and hired full-time local staff, as it looks to build a permanent presence in the key energy market.
The firm has created a new a local arm, EnerQuip Torque Solutions, in partnership with Al Yaseah Oil & Gas Industry Supplies & Services to harness future opportunities in the region, including the securing of the new multi-package deal.
This award, with a major regional tubular running services company, is the single largest in the company's history, and valued in excess of $2.5m (£2.2m).
It will see the company deliver several of its mobile torque units (MTUs) capable of fully automated offline make ups of threaded casing and drill pipe up to 20" diameter, and 120,000ft.lbs of torque.
EnerQuip said it would be a "springboard" that would enable the company to cement its place in the region.
It is the latest move in a run of expansion and acquisition for the company, which earlier this year acquired the AMC product line from Forum Energy Technologies.
Last month the firm also announced the purchase of Fife sub-contract precision machining company Diamac Engineering for an undisclosed sum, which it hopes will support further diversify its markets.
Commenting on its newest expansion, managing director Andrew Robins said: "Establishment of a partnership and entity in the Middle East have long been ambitions. However, the delays to our plans caused by the Covid-19 pandemic offered the opportunity for further investigation and research, so as to ensure that our brand partner carried the same recognition as our own.
"We are delighted that Al Yaseah was selected after an extensive review and we are excited by the opportunities that await us, not least because the offering from Al Yaseah gives us the strategic location we require to ensure our clients experience the same high levels of support, whilst lowering costs."
Al Yaseah managing director, Khalid Al Qubaisi added: "With strategic presence of Al Yaseah in the capital city of Abu Dhabi and being one of the preferred and leading vendors in the energy, oil and gas and power sectors, we are confident that our partnership with EnerQuip will further strengthen our position with our clients by adding niche product and services to our portfolio."
Recommended for you

Christmas comes early for EnerQuip with $10m contract awards