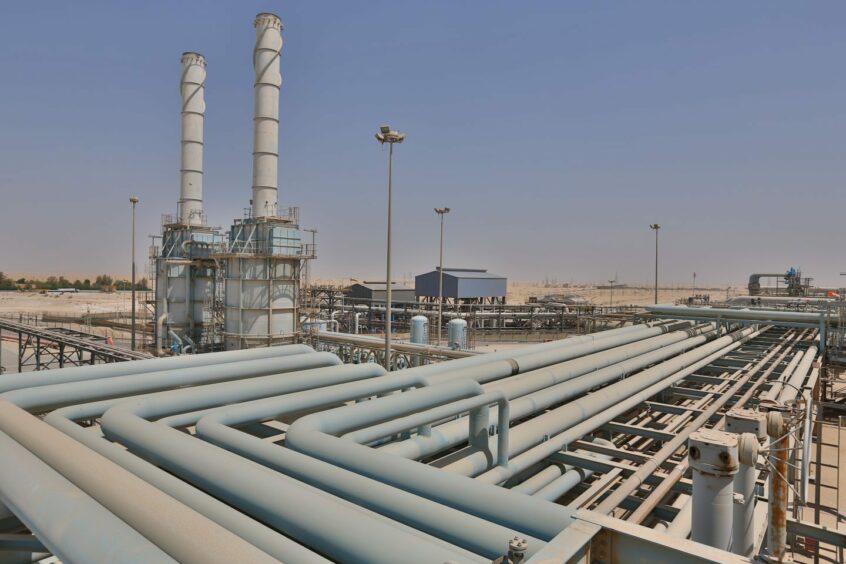 Adnoc has the goal of being the world's lowest-cost oil producer of choice. Unlike some of its IOC competitors, struggling to come to terms with the demands of meeting today's energy needs and tomorrow's transition, it is willing to put the money in.
The number that grabs all the attention is the Abu Dhabi company's target of 5 million barrels per day of oil capacity by 2027. In support of this goal, though, Adnoc is also working on reducing its carbon intensity by 25%.
It will achieve this objective through a host of initiatives, adding new projects and boosting existing developments, even while cutting emissions through schemes such as electrification.
While capacity is on its way up, it is not yet clear what actual production will be. The higher potential should allow Abu Dhabi to negotiate a higher OPEC quota, with a readjusted baseline from current capacity of 4mn bpd.
Eyes on growth
Achieving 5mn bpd by 2027 will be no mean feat, Adnoc Upstream senior vice president Mohamed Abdulla Al Marzouqi acknowledges.
The company must find new reserves while also increasing the recovery of its existing fields. It has the ultimate aim of recovering 70% of volumes.
"It's not easy just to grow these resources. It's even more challenging when you say it's smart growth, with the word smart meaning less cost and less carbon," Al Marzouqi said, in an interview at Adnoc HQ in Abu Dhabi. "As we are doing this, as we are growing our production, we are also ensuring that we have solid plan on our decarbonisation."
Adnoc has pioneered decarbonisation, the executive said. The company moved into LNG in the 1970s with a vision of sustainability, he noted, and the Al Reyadah CCUS plant continued this theme.
Adnoc's move to electrify onshore resources, using the grid, will cut CO2 emissions to zero in the onshore and by 50% in the offshore, Al Marzouqi said. It will also take steps to increase CCUS volumes to 5 million tonnes per year.
"These are not just plans, these are concrete projects in the ground, people can come and see physical plant."
Gone Bab
One area where plans are in motion is Bab, the home of Abu Dhabi's first commercial discovery. The Bab 3 well was drilled in 1958. While the field's water cut is increasing, so too does the daily production.
In 2012, output reached 390,000 bpd, rising to 420,000 bpd in 2015. Following enhanced oil recovery (EOR) project such as CO2 injection, it reached 450,000 bpd in 2020. Work is now under way on increasing this to 485,000 bpd.
Bab was the first discovery but its production of Murban crude sees it playing a continuing part in Abu Dhabi's wider aspirations. The state launched a futures contract for the benchmark in March 2021.
Amid the wider 5mn bpd plan, Murban will provide half the capacity increase -aiming for an increase from 2mn bpd to 2.5mn bpd.
On site
It's hot when I arrive at the historic Bab field. Nasser Salem, vice president of operations for the field, tells me it can get much hotter.
In the summer months, workers must take a midday break as temperatures can easily pass 40 degrees Celsius in the desert. At those temperatures, in the midst of serious physical activity, drinking enough water can become a challenge.
Touring the field infrastructure gives an insight into some of the other challenges – and how Adnoc aims to tackle them.
"Bab is still in its early stages," he answers when I ask about how the field has defied the industry's expected decline curve. The company clearly has a long-term vision for Bab, with some scenario planning showing production into 2050 – and beyond.
The field is around 40 km by 30 km, the executive explains. "There's quite a bit of growth still to come," in line with Abu Dhabi's plans to ramp up capacity.
The field offers options for exports. It has a link to the Jebel Dhanna terminal, the historic export site for production in Abu Dhabi. It also has a longer pipeline route to Fujairah, on the eastern side of the Strait of Hormuz, with this option providing increased flexibility for exports.
Expansion
Bab is just one part of Adnoc's broader vision, which it is taking steps to firm up through a massive seismic campaign that will cover the entire state. This has already provided returns in terms of adding new resources, with the discovery of 3.5 trillion cubic feet of gas and 1.1 billion barrels of liquids.
The company has awarded exploration blocks covering most of Abu Dhabi, but more is to come. "We are working towards more unconventional [resources] now in terms of licencing blocks," Al Marzouqi said.
Adnoc is open to bringing in additional expertise to speed the development of these unconventional resources, Al Marzouqi continued, "it's always good to have partnership in our operations". He gave the example of TotalEnergies partnering on unconventional gas plans with Adnoc.
Abu Dhabi has seen a number of wells drilled already, with the current focus on defining unconventional sweet spots.
There will also be growth in conventional resources, the executive said.
"I am definitely confident that more and more [discoveries] are coming soon. You will hear news in the onshore and the offshore sides. We know the area is rich. It's just we need to precisely see how much it has, how we can look at it, and that's the whole seismic plan."
CCS goals
CO2-based EOR will play a major part in the process, but there are also plans for other recovery methods. The simultaneous injection of gas and polymer (SIMGAP) is one such strategy.
The Bab field currently holds several crude oil production trains, with Adnoc having begun clearing land for a new one, as part of a project to expand the field's capacity. The field is large, covering an area of 40 by 30 km, but its neighbour Bu Hasa is larger – and with a similar expansion plan.
In line with the high-level plan of maximising energy, while minimising emissions, work at Bab is not just on production growth.
"We are aligned with Adnoc's target to reduce greenhouse gas emissions by 25% by 2030. The first major move came with the use of CO2 captured by the Al Reyadah facility," Salem said.
CCS will play a key part in Adnoc's aim of curbing emissions. "Carbon capture will help meet the emission reduction targets that we have," Salem said. "It will really help move Adnoc towards 'maximising energy, minimising emissions'."
In addition to the production target increase, Adnoc is also working on the Bab Integrated Facilities Project (BIFP) and Bab Far North Project (BFNP).
All-seeing eyes
Adnoc has carried out drone trials on the field, in order to detect fugitive methane emissions, for instance.
Furthermore, the company's plans with Siemens Energy aim to capture its successes in curbing emissions on a granular level, creating a blockchain record of operations.
Adnoc is increasingly bringing in automation to monitor operations and even carry out operations. The company has a high level system, Panorama, which captures all the flows through its entire system, from production through to exports.
The company can monitor upstream operations to a granular level via its Thamama centre. "Technology is a must, that's why we're connected to Thamama," Salem continues. The monitoring system allows Adnoc to centrally plan how to safely optimise production – and how to balance spare capacity.
Adnoc is working to apply AI to its digital systems and its capacity will grow and gain agency.
"Can AI take the decision on the spot, not me? Can the machine take the decision? We have a clear vision on this," Al Marzouqi said. The company will invest "billions of dollars" in digitalisation and AI.
The biggest challenge is in convincing people that AI has a part to play. "I don't think the technology is a problem," Al Marzouqi said. "We will have a difficult time or challenging time to convince them, but they will be convinced if they see the value."
To achieve the growth required "they have no other option except using AI to ease their day-to-day operations".
Adnoc faces tough tasks ahead of it, as it aims to find a balance between boosting production, limiting emissions and controlling costs. However, given the political support and abundant resources, the company is well positioned to secure its place.
Recommended for you

Energy Transition in the Middle East