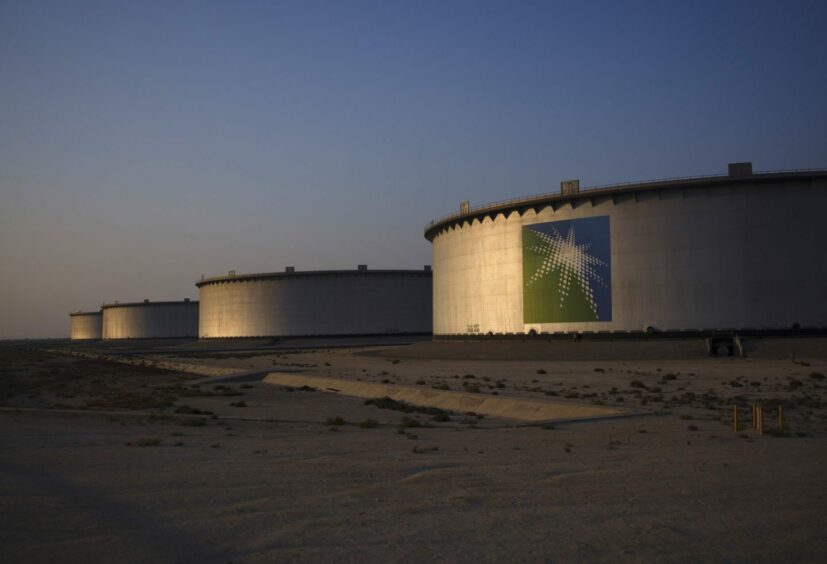 Saudi Aramco unexpectedly increased its dividend and said it would hike spending as it looks to deploy an avalanche of cash generated by last year's surge in oil and gas prices.
The world's biggest energy company made net income for the full year of $161 billion, the most since it listed and up 46% from 2021. Its performance was bolstered by Russia's invasion of Ukraine roiling oil markets and the OPEC+ alliance raising production.
Aramco boosted its dividend — a crucial source of funding for the Saudi Arabian government — to $19.5 billion for the final quarter, up 4% from the previous three-month period.
US and European peers such as Chevron Corp. and Shell Plc also reported blowout earnings and are returning billions of dollars to shareholders through larger dividends and buybacks. Aramco, until now, has instead focused on using its extra cash to increase output.
Crude prices have fallen from $125 a barrel since the middle of 2022, with Brent dropping another 3.6% this year to below $83 a barrel. That's been caused in large part by the US Federal Reserve staying hawkish on inflation and investors no longer anticipating interest rates will be on a clear downward path by the second half of 2023.
The company's adjusted profit weakened to around $31 billion between October and December, according to Bloomberg estimates, down from $42 billion in the third quarter. Aramco will release a full financial statement on Monday.
Sabic, a chemicals firm controlled by Aramco, saw income slump in late 2022 as a global economic slowdown weighed on consumption of everything from plastics to building materials.
China bounce
Many traders still think oil will climb later this year, perhaps back to $100 a barrel, as China's economy recovers with the ending of coronavirus lockdowns.
Demand in China and India, two of Aramco's main markets, is robust, Chief Executive Officer Amin Nasser said to reporters on Sunday. Oil consumption will probably hit a record of 102 million barrels a day by the end of 2023, he said.
"Europe might have been impacted a little bit because of the conflict between Russia and Ukraine and economic headwinds," he said. "But in the rest of the world, where most of our supplies go to, we are seeing pick up in demand."
Aramco reiterated there's too little investment globally in oil and gas production and warned that a tight market could cause prices to jump.
"Given that we anticipate oil and gas will remain essential for the foreseeable future, the risks of underinvestment in our industry are real — including contributing to higher energy prices," Nasser said in a company statement.
Saudi Arabia has criticized Western governments and energy firms for trying to transition to clean energy too quickly. Aramco, in contrast, is spending billions of dollars to raise its daily oil capacity to 13 million barrels by 2027 from 12 million, and gas output by more than 50% this decade.
Aramco spent $37.6 billion on capital projects in 2022 and will increase the figure to between $45 billion and $55 billion this year, it said. In addition to oil, its investing heavily in cleaner fuels including hydrogen.
The full year dividend of $75.8 billion — the world's largest for a public company — was easily covered by free cash flow, which soared to almost $149 billion.
"We're aiming to sustain it at this level and grow it through the years," Chief Financial Officer Ziad Al-Murshed said of the dividend.
Aramco will also issue one bonus share for every 10 shares owned.
The gearing ratio, a measure of net debt to equity, fell further into negative territory as the firm's finances improved. It dropped to -7.9% from -4.1% at the end of September.
Crude production averaged 10.5 million barrels a day in 2022, the highest level ever for the kingdom. That came as the Organization of the Petroleum Exporting Countries and its partners — a 23-nation group led by Saudi Arabia and Russia — opted to pump more following deep supply cuts in 2020 as Covid-19 battered the oil market.
OPEC+ staying put
Saudi Arabia's energy minister, Prince Abdulaziz bin Salman, has indicated the alliance will leave its quotas unchanged for at least the rest of the year.
Aramco, based in Dhahran in eastern Saudi Arabia, carried out an initial public offering in 2019. The government still owns around 98% of the stock, which was unchanged on Sunday in Riyadh at 32.80 riyals.
Aramco has a market value of $1.9 trillion, second only to Apple Inc.
Recommended for you

Trafigura triples dividend to $5.9bn after record profit