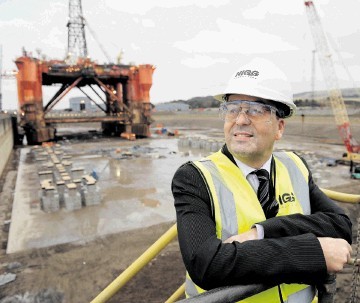 Aberdeen-based Rigfit Offshore (UK), the specialist accommodation outfitting arm of Global Energy Group can now press ahead and expand into the Middle East as a result of taking over Seven Seas International.
The deal to acquire manufacturing facilities in Dubai and Bahrain for an undisclosed sum significantly enhances the Rigfit offering and adds to its existing operations in Sharjah, UAE.
Moreover, it fits precisely with Global Energy's strategy of creating a family of hubs around the world to drive internationalisation of the Scottish group.
Seven Seas International is a £12million revenue business providing outfitting and accommodation module services to the Middle East and Caspian oil & gas markets.
Chairman Roy MacGregor signalled a Middle East acquisition to Energy some three months ago when he said: "In the Middle East where we're currently doing about £15million (a year) we're just about to buy another business. That will give us a £30million presence there.
"To build a hub you've got to generate at least 10% of your turnover there. We don't yet have that in the Middle East or Houston and we need to get to that position. That's one of our strategic goals now."
Brian Knowles, managing director of Rigfit Offshore, said: "We are delighted to announce the acquisition of Seven Seas International and the merger between the companies, Rigfit Offshore Ltd (UK), Rigfit International LLC (Dubai), Rigfit International FZC (Hamriyah), Seven Seas Services LLC (Dubai), Seven Seas Ship Maintenance LLC (Abu Dhabi) and Seven Seas Décor SPC (Bahrain).
"Rigfit has enjoyed a number of busy years supporting oil & gas majors and offshore drilling companies to refurbish accommodation facilities in Europe.
"We reacted to the current downturn by focusing on opportunities in the Middle East and Caspian, where activity remains strong.
"We have been successful in securing major projects in Baku and Dubai in the past six months, and viewed the Seven Seas acquisition as an important step in accessing additional manufacturing facilities and skillsets in the region."
The move underpins a wider effort by the Global Energy Group to position itself for growth in the Middle East.
Counting the acquisition, this now much reinforced regional hub is expected to generate around 7.5% of group turnover. Moreover, it is also expected to service both the East and West Africa markets, being well placed geographically for both.
Graham Cowperthwaite, senior VP of Global's Marine IRM Group, added: "While the market in the North Sea is very difficult at present, we are seeing significant drilling activity in Saudi Arabia and the UAE.
"This is placing high demand on fast turnaround service work for drilling units and support vessels.
"The merger has brought together six separate trading entities into one, which will make us a very strong organisation going forward given the breadth of experience within the existing companies both in the Middle East and Europe with a combined annual turnover of about $50million.
"The new company will be rebranded 'Rigfit 7 Seas' to incorporate the strength of both brands."
Meanwhile, on the broader group front, Global has for the time being pulled back from seeking additional investment, a process that could have led to more ownership dilution (Mitsui holds 25%) and has lately led to some speculation.
The idea was to accelerate internationalisation of the company, which has, among other successes, utterly transformed the offshore fabrication yard at Nigg to create a multi-faceted enterprise designed to service both offshore oil & gas and the maritime renewables sectors.
MacGregor told Energy: "During 2014 the board of directors of the Global Energy Group agreed a strategy to internationalise its operations to build on the success of its existing business in the UK and Australia.
"In order to execute this strategy, the board invited support from Simmons International to attract new investment into the group.
"This was decided to add additional capital for larger platform acquisitions in new territories, and to facilitate the need for additional expertise to strengthen the delivery of the strategy.
"Due to the declining oil price and uncertainty in the oil & gas market, the board abandoned these plans in favour of a more incremental internationalisation strategy."
Aside from offshore, Global also supports non-energy infrastructure including water/utilities and onshore mining. Its current headcount worldwide is around 4,000.
In the year to the end of March 2014, the group saw its turnover rise by 32% to £472million. Profits also climbed from £18.8million to £28million.
Buy a complete copy of Energy here.
Recommended for you

STATS tackles 'world first' subsea pipeline intervention in Middle East