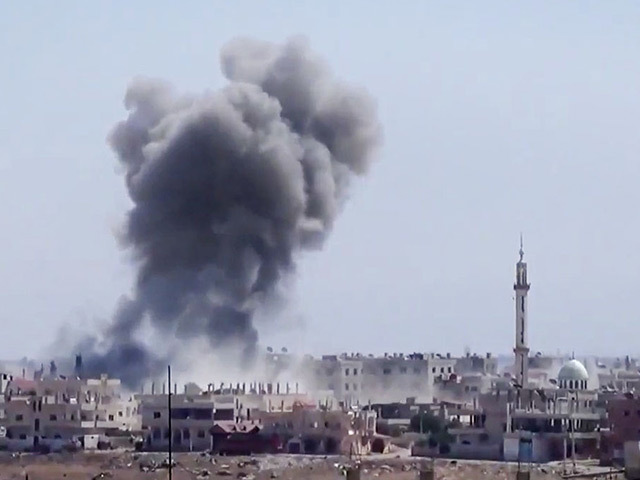 Prime Minister David Cameron has claimed the oil revenues of ISIS (Islamic State) have been lowered by as much as 25% since the UK became involved in strikes in Syria last month.
The politician was giving evidence before the liaison committee in which he faced questions about his energy and climate change policy.
When asked a question on what kind of military force could be used to take on ISIS, the leader said an operation to remove the terrorist network "may take longer" but was the "right strategy".
He said: "Even in Syria, if you take what has happened since September, the action that we became part of in December has taken out something like 25% of the oil revenues of Daesh; it has
taken out 10% of their revenues overall, so I think there is growing confidence that we can push back Daesh.
"Growing confidence in Iraq that there are forces we can work with on the ground, and then a political track in Syria that relies on the fact that, in the end, we need to build, as I said many
times during the debate—there are the moderate opposition forces we can work with now, but in time what we want to work with is a Syrian transitional Government that can help us to squeeze
Daesh out of existence."
Last month the first of RAF bombing raids on oil wells in eastern Syria were classed as a "real blow" to the financing of the terror group by UK Defence Secretary Michael Fallon.
The initial targets had been in the Omar oil field.
Earlier this month, it was estimated that IS raised around $4.4million a day, with oil being its biggest earner.
Middle East Minister Tobias Ellwood told MPs that oil remains its biggest provider of profit but said the UK Government was continuing to help put pressure on the group.
Last year, it was estimated the terrorist group was producing between 40,000 and 50,000 barrels of oil were being produced each day to fund IS in Syria and Iraq.
Cameron was also asked about his support for bringing Turkey into the "European family of nations".
He said he would like to country to be "more focused" on IS, but added there were signs this was already changing.
"If you look, for instance, at the work we are doing on the Turkish border, the interdiction of oil supplies and oil smuggling, the work with partner intelligence services across Europe, including in Britain, I would say they are stepping up the work they are doing to counter Daesh (ISIS), and in everything we do we need to encourage that as much as we can."
Recommended for you

What's happening with the oil and gas skills passport?