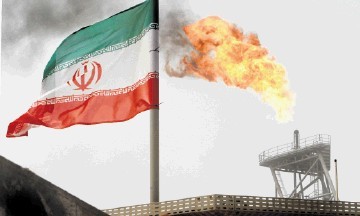 North Sea companies have been urged to look east following the lifting of trade sanctions in Iran.
On Saturday, the US and European Union revoked sanctions that had cut Iran's oil exports by about 2 million barrels per day.
The move came more quickly than the market expected, which drove oil prices down lows not seen since 2003.
According to petroleum economist Professor Alex Kemp, Iran has about 12 million barrels of oil and 24 million barrels of condensate stored and ready to hit the market. Over the weekend this worsened the existing glut of oil in the market.
But the change in trading rules is set to benefit UK firms in the oil and gas sector ahead of US companies, which still face restrictions.
Jamie Stark, a partner with law firm Burness Paull, said:"For the EU and the UK, there is an immediate easing of sanctions.
"With certain restrictions, business are free to re-engage with Iran – that specifically includes the oil and gas sector.
"For the US it is more complicated. Sanctions continue in respect of bilateral trade between the US and Iran which results in US oil businesses being unable to do direct business with Iran from the US.
"However, US businesses outwith the US – maybe based in the UK – can engage with Iran."
He added that the country was now "crying out for investment".
"We are talking about the fourth largest oil producer on the planet, and the second biggest gas producer," he said. "It is a market that has been closed for many years, now re-opened, and they are crying out for investment.
"In the North Sea we've got businesses that have the technology and resource. They have a track record of being fleet of foot and working in regimes that are more difficult than Iran, like Angola."
SDI is planning to lead a trade mission to the Middle Eastern country, scheduled for March.
David Rennie, International Sector Head – Oil and Gas, Scottish Enterprise, said: "SDI visited Tehran in December and had a number of successful introductory meetings with the National Iranian
Oil Company and the Iranian Chambers of Commerce, we are currently planning our first trade mission to Iran.
"We have already had interest from several Scottish companies and hope to secure dates this spring."
Sir Richard Dalton of the British Iranian Chamber of Commerce and Middle East expert George Booth, a partner with law firm Pinsent Masons will speak at a Race to Capture the Iranian Market event at Aberdeen & Grampian Chamber of Commerce on 5 February.
Oil prices hit their lowest since 2003 on Monday, as the market braced for additional Iranian exports.
Worries about Iran's return to an already oversupplied oil market drove down Brent crude to $27.67 a barrel early on Monday, however,
it lifted to $28.77 in later trading.
Iranian President Hassan Rouhani plans to visit Italy and France next week on his first European trip since sanctions were lifted, a diplomatic source said on Monday.
Recommended for you

US says Russia oil cap needed as EU sanctions not yet priced in