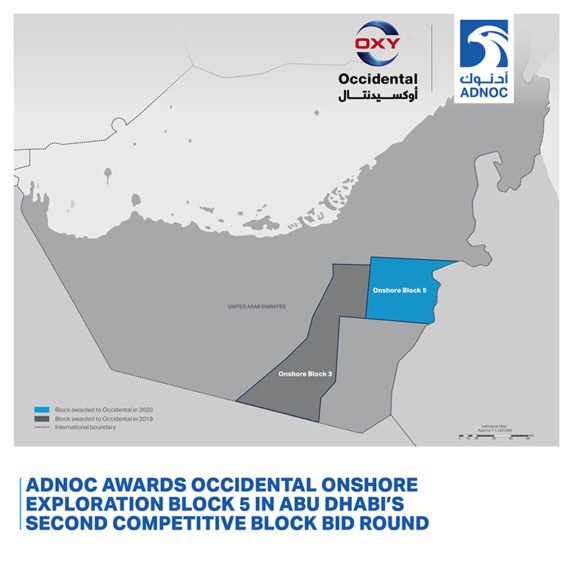 Occidental Petroleum has won the exploration rights to Abu Dhabi Onshore Block 5, Adnoc has reported.
The Supreme Petroleum Council (SPC) has approved the award. The SPC authorised Adnoc to begin dishing out blocks from the second bid round in November.
Oxy will have a 100% stake in exploration and will invest up to $140 million in the area. This sum includes a participation fee.
Block 5 covers 4,212 square km and is southeast of Abu Dhabi city, close to the border with Oman. Adnoc said 3D seismic had been acquired over a large part of the block, which it described as promising. The block is next to the 5,782 square km Block 3, where Oxy has drilled two promising exploration wells.
Should the US company make a commercial discovery, it will have the right to a production concession. Adnoc has an option to hold a 60% stake in the production phase. This phase runs for 35 years, from the start of exploration.
Adnoc CEO Sultan Al Jaber said the deal strengthened the company's long-standing partnership with Oxy. "Crucially, the award underscores the attractiveness of Abu Dhabi's huge untapped resource potential and Adnoc's ability to continue to secure foreign direct investment to the UAE's stable and trusted business environment, despite tough market conditions," he said.
Development
Oxy won the block"after a very competitive bid round that builds on the success of our debut bid round completed last year as part of Abu Dhabi's block licensing strategy aimed at accelerating the exploration and development of our substantial hydrocarbon resources".
The US company will also use, and contribute to, Adnoc's mega seismic survey. "We see significant potential in Onshore Block 5 and, in partnership with Adnoc, will continue to work to help unlock the vast untapped resources in Abu Dhabi," said Oxy's CEO Vicki Hollub.
The bid round offered five blocks in total, two onshore and three offshore.
Recommended for you

ADNOC Drilling lands $2bn contracts for Ghasha 'mega-project'