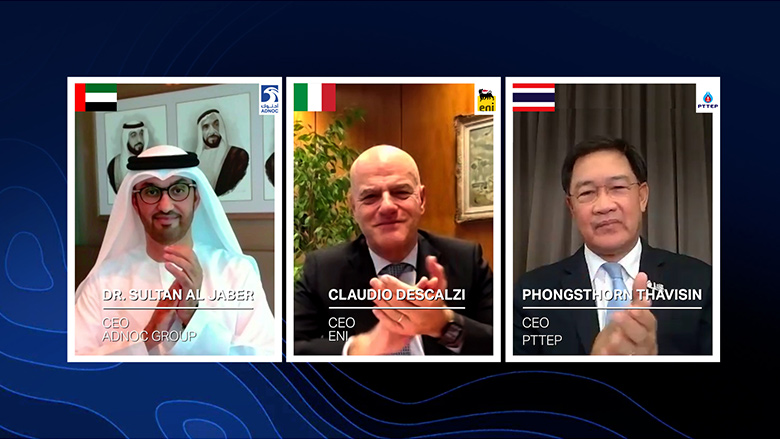 Eni and Thailand's PTT Exploration and Production (PTTEP) have won the first offshore block in Abu Dhabi's second bid round, Adnoc has announced.
Subsidiaries of the two foreign companies will invest up to $412 million in Offshore Block 3 during exploration. If Eni Abu Dhabi and PTTEP MENA make a discovery, they will have the right to a 35-year production licence. Adnoc can hold 60% in the production licence.
Abu Dhabi's Supreme Petroleum Council (SPC) has approved the award. Eni will operate the block.
The US' Occidental Petroleum won the Onshore Block 5 earlier in December.
Adnoc's CEO Sultan Al Jaber, Eni's CEO Claudio Descalzi and PTTEP's CEO Phongsthorn Thavisin all participated in a signing ceremony.
Adnoc's Al Jaber said the deal reinforced the company's relationship with Eni "and deepens our relationship" with PTTEP. He noted that Thailand was a key market.
"This again validates our targeted approach to value-add partnerships that contribute the right combination of capital, technology, capabilities and market access to accelerate the development of Abu Dhabi's hydrocarbon resources," he said.
Synergies
Descalzi said the award of the block followed a similar agreement "by the same consortium in 2019 for offshore exploration Blocks 1 and 2". The deal "represents a further important step towards the realisation of Eni's strategy to become a leading actor in the development and production in Abu Dhabi, a leading region for the oil and gas industry, while contributing through its expertise in exploration to add further resources and exploit all potential synergies with the surrounding fields."
Offshore Block 3 covers 11,660 square km, it is the largest offered during the second bid round. New 3D seismic covers some of the block. Eni and PTTEP will contribute to Adnoc's mega seismic survey.
Adnoc reached a framework agreement with ExxonMobil on December 10, to focus on technology R&D in the upstream. The companies will work on a number of areas including non-metallic materials, smart reservoir management and well monitoring.
Recommended for you

Taqa and ADNOC take control of UAE's Masdar in $2bn deal